Surrounded by snow-capped peaks and rugged hiking trails, this tiny town of Maple Falls boasts a population of under 250 people, many residing in lovely log cabin-style homes. It offers boundless tranquility at the foot of the Cascade Mountains.
Tucked into the mountains between popular travel destinations like Seattle and British Columbia, Maple Falls is within spitting distance of Mt. Baker Ski Area and the Canadian Border. This makes it a popular tourist destination come ski season and a jump-off point for hiking in the summer.
Let this guide to Maple Falls help you uncover the hidden gems in this tiny town as one of many day trips from your Luxury Getaways vacation home rental. 
Getting to Maple Falls, WA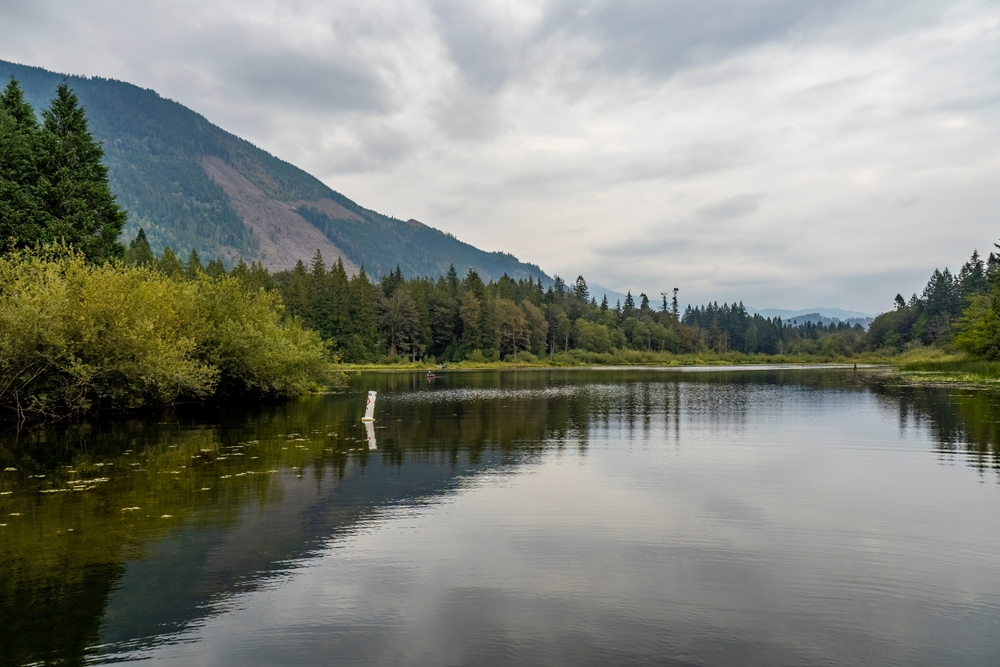 Maple Falls is located off Mt. Baker Highway in what is referred to as Sprague Valley. To reach the town, follow Highway 542 east of Bellingham until you drive through it. If you enter the town of Glacier, you've gone too far!
Best Things To Do in Maple Falls
Maple Falls is not a cosmopolitan city. You won't find fancy cocktail bars, malls, or museums to fill your time. Instead, Maple Falls offers its few visitors a glimpse of life in rural Washington and a chance to immerse in untouched nature. To disconnect. A rarity in today's ever-modernizing fast-paced world.
1. Chase some Waterfalls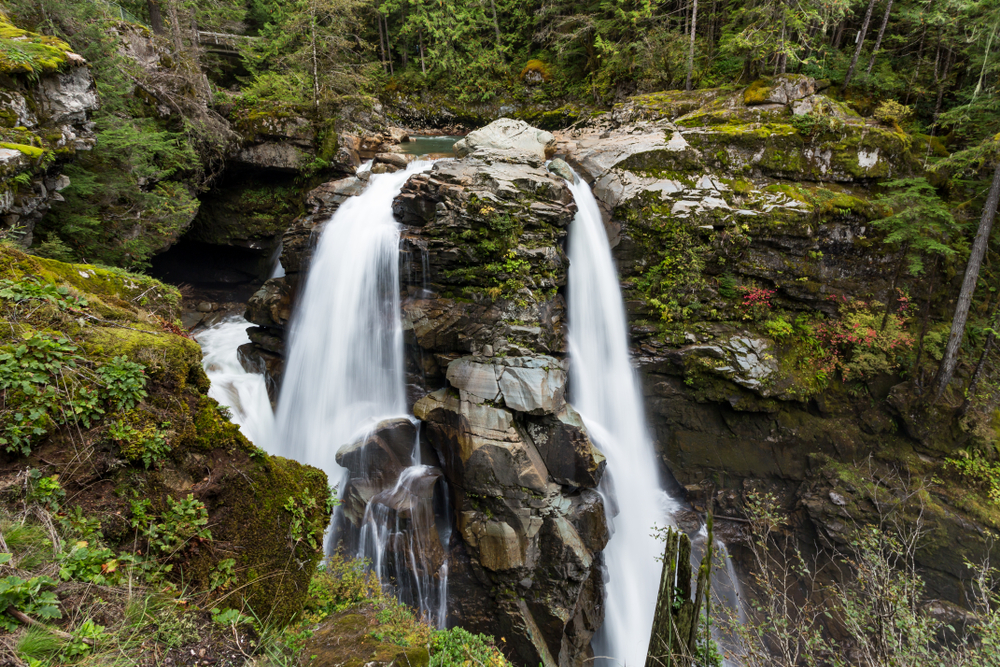 You don't have to venture far in this damp forested region of Washington state. Both Racehorse Falls and the town namesake Maple Falls are located within a few miles radius. For those looking to chase waterfalls a little further afield, noteworthy ones along this stretch of the Mt. Baker Scenic Highway are:
Hard Scrabble Falls
Nooksack Falls
Lower Wells Creek Falls
Mazama Falls
Rainbow Falls
Sulphide Creek Falls.
The latter three require a moderately strenuous hike through Mt. Baker Snoqualmie National Forest. 
2. Immerse in Nature & Hit the Hiking Trails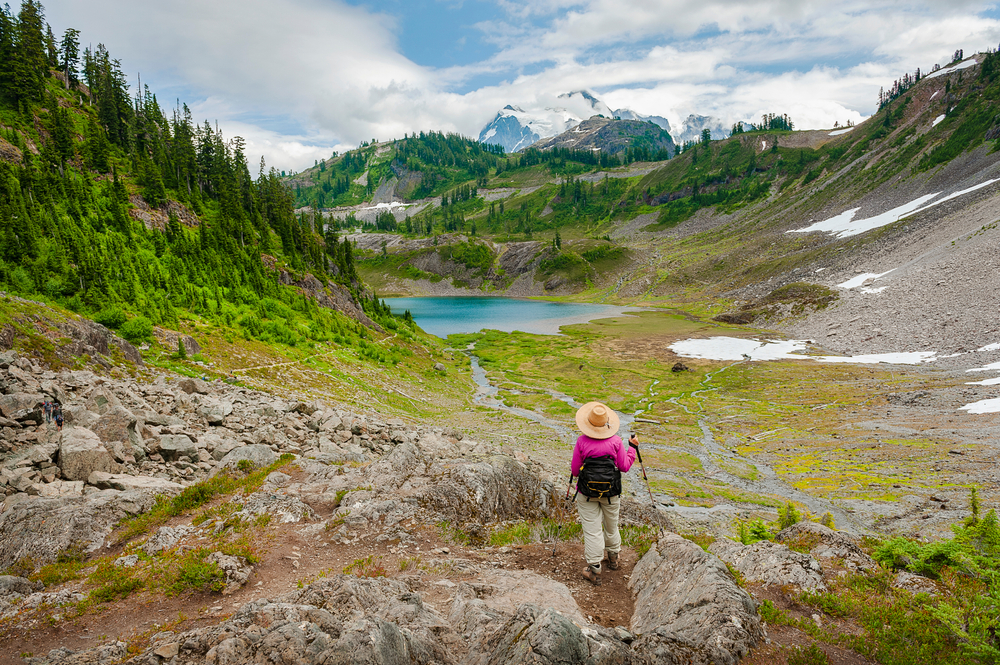 Maple Falls is brimming with lovely hikes. Wide dirt paths wind through the damp fern-covered forest alongside babbling rivers. Hiking in Maple Falls is exceptionally peaceful because, with only a few hundred town residents, no national or state parks, and very few local accommodation options, most Seattle visitors find themselves hiking elsewhere in the region. Here are some of my favorite trails in town.
If you want to hike some of the more renowned trails in the Mt Baker Snoqualmie National Forest, these are also easily accessible from Maple Falls. Chain Lakes Loop Trail, Skyline Divide, and Iceberg Lake are some of the best.
3. Picnic in Maple Park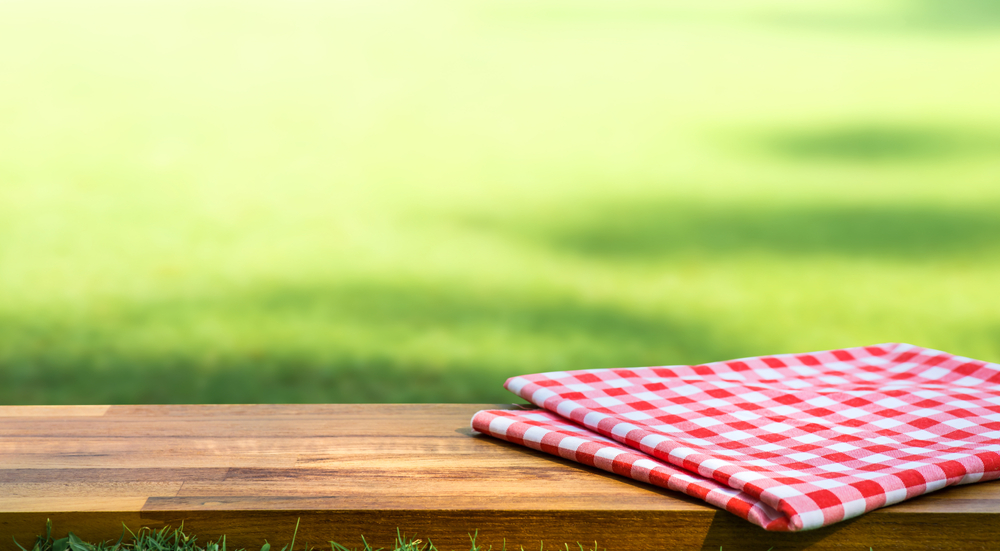 If you are visiting Maple Falls in the Late Spring through Early Autumn months and are not interested in a strenuous hike, you should plan a picnic lunch at Maple Park instead. This grassy patch of land offers plenty of flat ground. It is right around the corner from Cross Road Grocery + Video to gather your picnic supplies.
4. Go Green & Celebrate Washington's Herbal Culture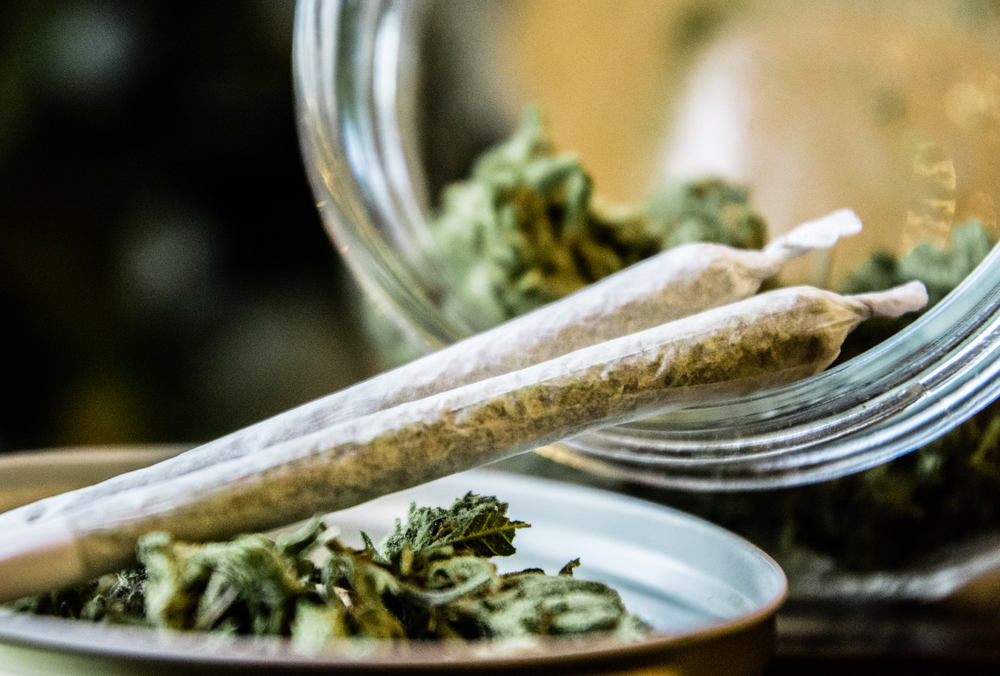 Recreational Cannabis is 100% legal in Washington State for those 21 and older. Seemingly in the blink of an eye, every town, large and small in Washington, had its very own well-stocked weed store. Maple Falls is no exception. Green Stop Mt. Baker is a quaint classic wooden cabin with a green sheet metal roof right off the main highway, a perfect provision stop on your way to a day hike. 
5. Pick Up Some Small Town Souvenirs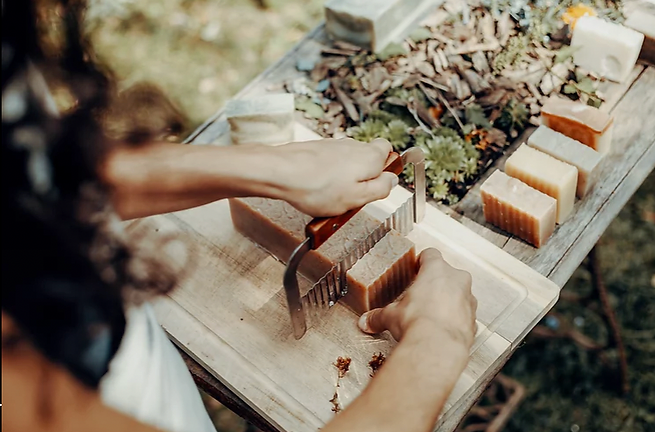 While Joe's Gaming and Electronics and Marbled Arts quilt shop can help you with their niche items, the best souvenirs come from River Roots Apothecary. Here you'll find locally made goods, natural health products, and cute little odds and ends that you can bring home to remember the trip forever. The owner also hosts workshops relating to her products, so be sure to visit the shop and see what's on the docket.
If you want to venture just a little outside Maple Falls to the neighboring town of Peaceful Valley, Kendall, or Deming, you can also visit Psychic TEAz Brains Network, b, and Cascadia Stoneware.
6. Take Washington's Most Scenic Drive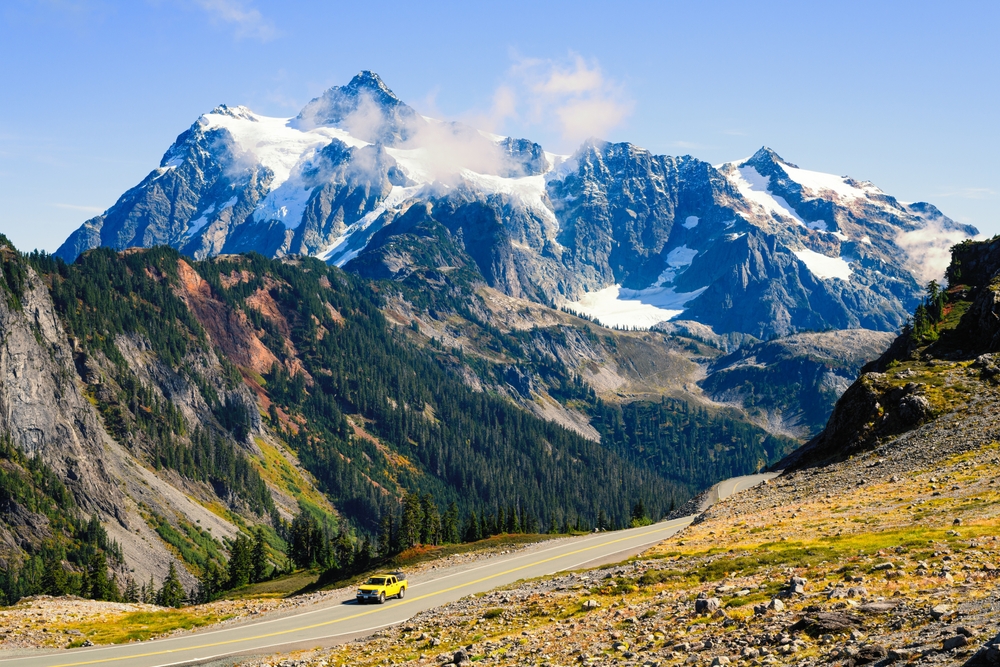 Mount Baker Highway cutting through Whatcom County from Bellingham to Artist Point, is, far and away, the most beautiful and breathtaking drive in Washington State. From Spring to Autumn, visitors can weave through the densely forested mountains glimpsing the craggy peaks of Mount Shuksan and Baker through the breaks in the trees. 
Once you reach the dead-end parking lot of Artist's Point, you'll be treated to panoramic views of the Cascade Mountains right from your car window. The best time to make the drive is around sunrise or golden hour (4 PM) in the afternoon. Be sure to visit Picture Lake along the way and plan on taking a short (or long hike) once you reach Artist Point. Keep in mind that Artist Point is closed in the winter months after the first snow.
7. Float the Nooksack River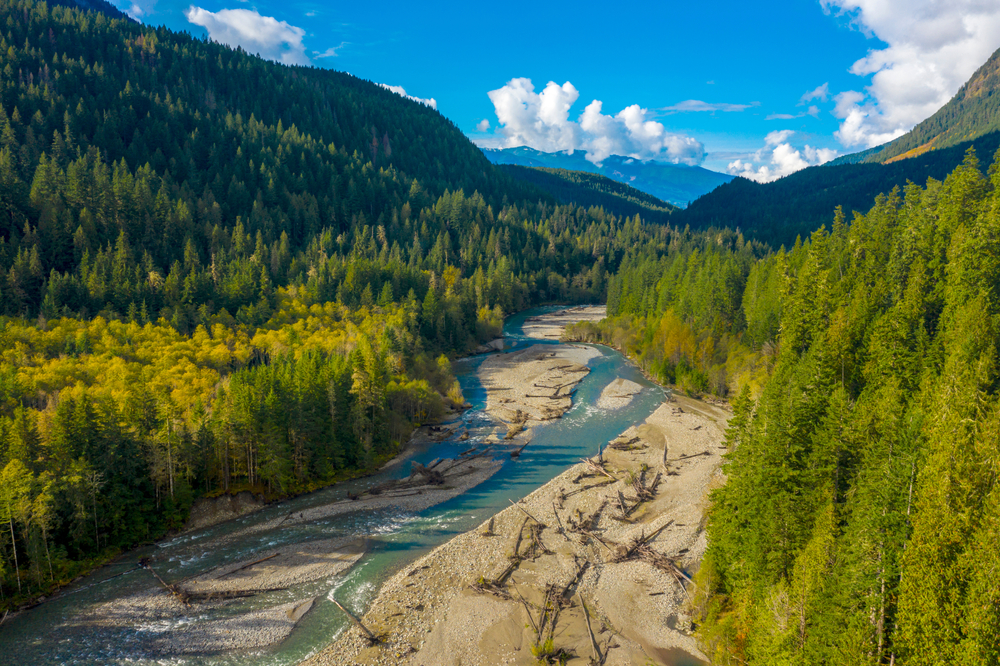 Maple Falls is located near the North Fork of the Nooksack River. Depending on the season, the waters alternate from fast-flowing aquamarine glacial streams to a silty slow-moving, perfectly floatable river. You can join a white-water rafting tour, swim in its slower pools, or just admire the stream from the shore.
8. North of the Border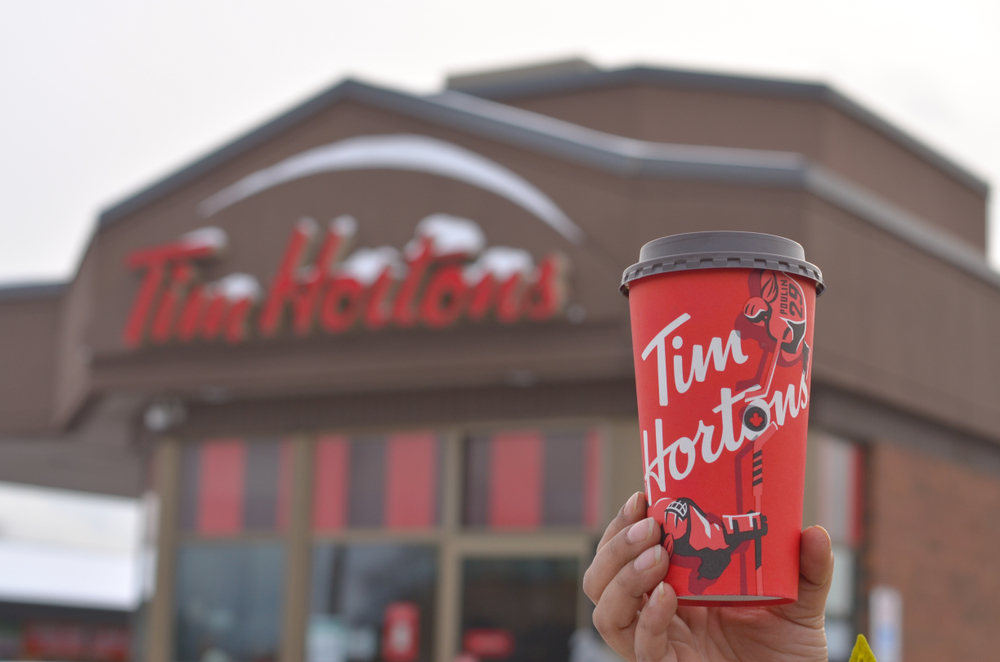 With just a 14-mile drive to Abbotsford, you'll find yourself in Canada. It's that close. Still in the same time zone, you can hike up Sumas Mountain, order a cup of coffee and donut at the world-famous Tim Horton's, and try your hand at one of their many biking trails. This makes for a great day trip from Maple Falls.
Eating & Drinking in Maple Falls, WA
While the food scene in Maple Falls is a little sparse, a handful of restaurants and coffee shops are worth checking out if you find yourself in the area.
Joe's Fine Coffee: Exceptional coffee with a lovely little back patio.
Michocana 3Mendos Tacos: Authentic excellent Mexican food.
Hot Stuff Pizza: Take & Bake pizza and a mini grocery store.
Deming, Sumas, and Bellingham, WA, have a more developed food scene if your tastes are slightly more refined.
A Day Trip to Maple Falls
Maple Falls allows visitors to disconnect and immerse in nature while not venturing too far away from civilization. For lovely vistas and hikes that range in difficulty from easy park walks to multi-day backpacking trips, it's worth a trip out from your Mt. Baker or Bellingham vacation home rental. It's a small mountain town in a scenic area with quaint neighborhoods and slow streets—the perfect getaway for couples or families hoping for a tranquil escape.