As you drive the winding scenic route through the dense green forests of the Pacific Northwest, you see flashes of a monumental white-capped mountain in the distance.
The road hugs the cliffside as you wind forever upward. With every bend, you wonder if you've just about made it. As you pull into the parking lot of Artist Point, the scenery erupts in front of you. It's nothing but mountains and an endless sky.
It is, without a doubt, the prettiest parking lot in Washington State, if not the world.
Staring straight ahead into jagged peaks whose summits reach 10,000 feet. The peaks look impossibly close and impressive. This is Artist Point. And while the origin of the name is unknown, it's pretty clear that this view could indeed inspire artists for generations to come.
Artist Point is one of the best bang-for-your-buck destinations in Washington and easy to visit for those staying at a Bellingham or Mt. Baker vacation home.
Here is everything you need to know as a first-time visitor to Artist Point.
Why Artist Point Should Be On Your List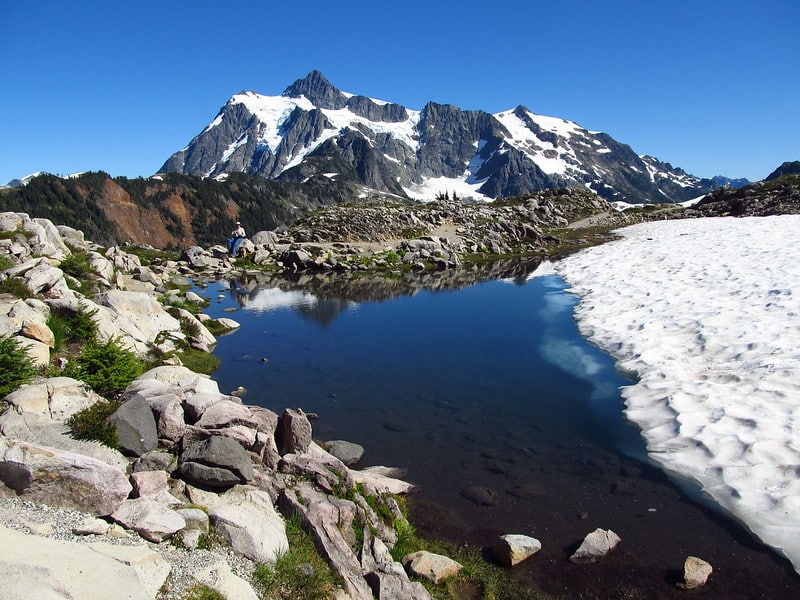 Artist Point is my favorite viewpoint in Washington State. The Mt. Baker-Snoqualmie National Forest is a spectacular show of raw, untouched nature tucked into the remote recesses of Northwest Washington.
While it looks precariously close to Seattle, this area is actually seldom visited and still feels like small town USA. With Bellingham nearby, this area isn't short on outdoor enthusiasts and is an ideal day trip destination.
Aside from just the spectacular views, easy impressive hikes, and long journeys through the mountains, Artist Point is worth visiting because the scenic drive allows you to roam through some of the lesser traveled regions in Washington and understand why the surrounding nature is so precious to us PNW locals.
Fun Facts About Artist Point
Two For One Mountain Views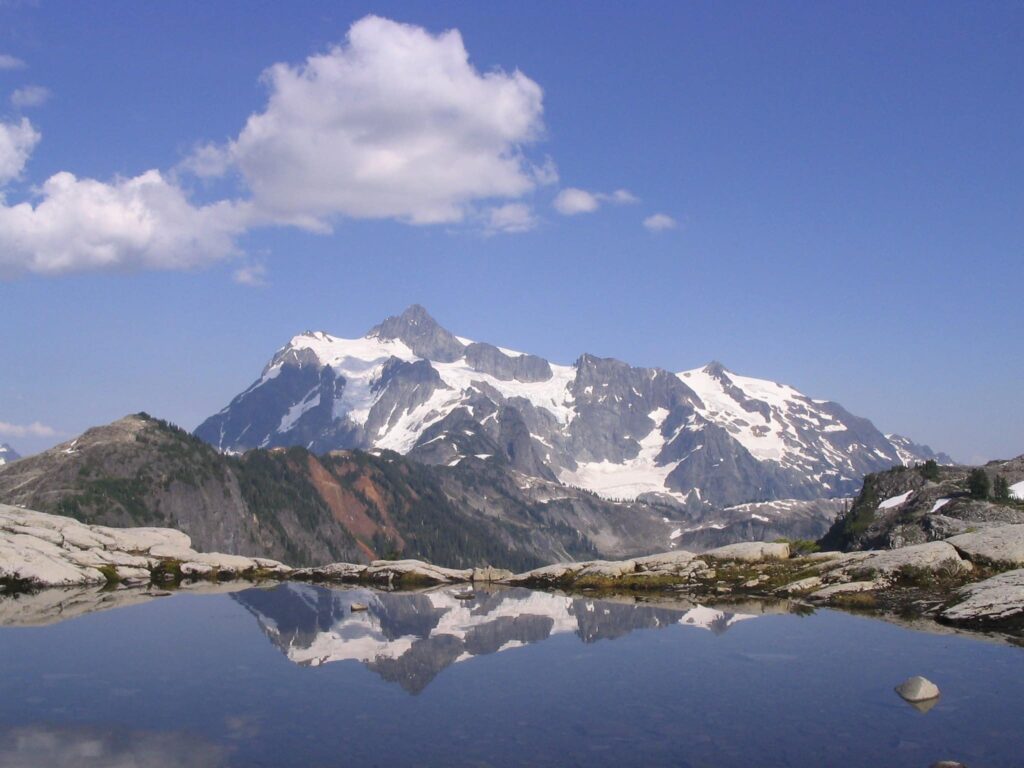 Artist Point is the only panoramic view of both Mt. Shuksan and Mt. Baker. These 360-degree mountain peak views are the reason why people come from all over the state to enjoy the scenery.
Artist Point is the end of the line. The viewpoint is actually located at the end of the road, so it's impossible to miss it!
Historical Roads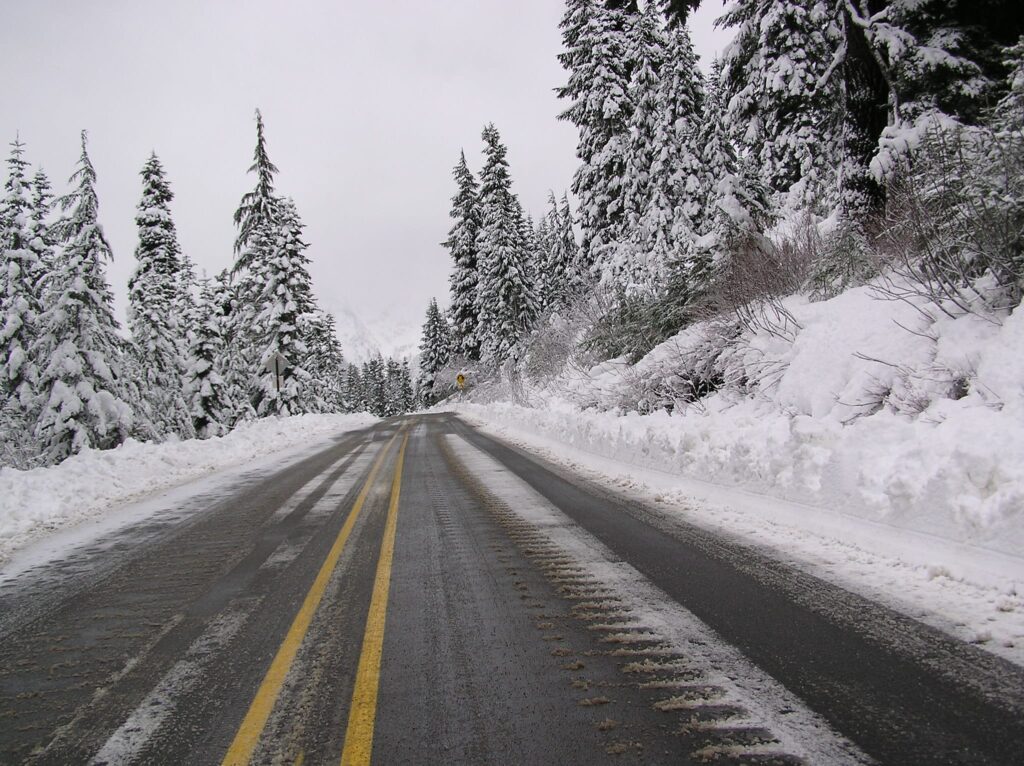 The road to Artists Point (SR 542), or the Mount Baker Highway, was built in 1930. Once you see the road, you'll understand why this was an impressive feat. Climbing the mountainside with sheer drop-offs and hairpin turns, it's a dangerous road even in the summer months.
The Snow Sticks Around
The road to Artist Point is totally closed for part of the year due to snowfall. Mt. Baker is known for being one of the snowiest places in the entire world. This means that the best time to visit the trails is in summer. This is common all over the PNW, where snow can linger on the high terrain well into the Spring season.
Native Grounds
The view from Artist Point is of the Nooksack Native American Territory extending from the Salish Sea to the Nooksack River.
Wildlife Haven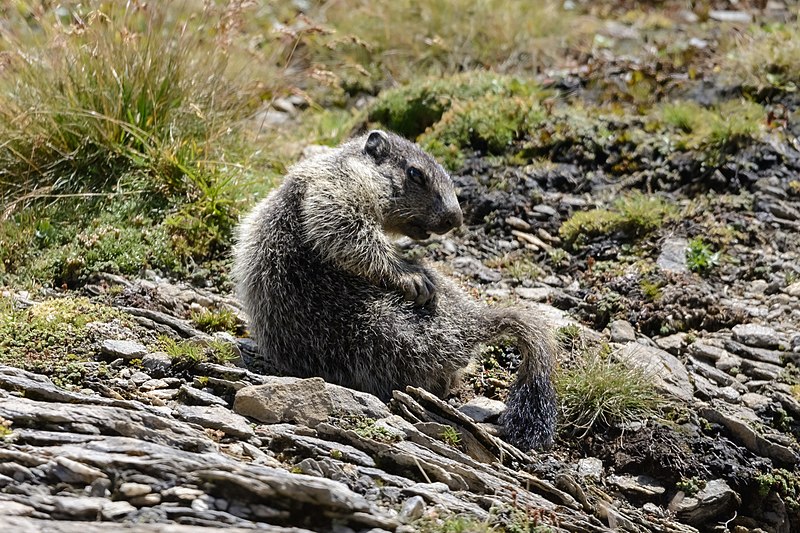 The Mt. Baker National Forest is home to cougars, black bears, marmots, and mountain goats, as well as many other native fauna species. Always be prepared for an unexpected encounter with dangerous wildlife. Having bear spray on hand is the best preparation. Sightings of bears and cougars are rare but not unheard of at popular points of interest like Artist Point.
A Quick Guide to Artist Point
Getting There
The only way to reach Artist Point is by car.
Or a steep walk uphill from Heather Meadows visitor center to the summit. However, this is not recommended unless you visit during the off-season when the road is closed due to poor weather and road conditions. You should be of a good level of fitness and equipt for a difficult hike to attempt this long, arduous hike, though.
The closest city to Artist Point is Glacier, WA. While most visitors will be coming from larger cities like Seattle or Portland, you may want to plan to stay around nearby Glacier. From there, you can follow state route 542 or Mt. Baker Highway for 24 miles in total.
You'll drive past Mt. Baker Ski Area and continue on for another 2.5 winding miles until you arrive at the end of the road. This is Artist Point.
No Day Pass Needed
You do need to pay for a $5 daily use pass to visit. You can pay at the parking lot just be sure to have some cash on you. Or have a Discovery Pass on display. This pass also works at all Washington parks.
There is no overnight camping allowed in the Artist Point parking lot from May 15th to November 15th. The sites are backcountry, and you must secure permits far in advance.
Few Amenities
Keep in mind there are no public restrooms, only a lone vault toilet at the Artist Point Parking lot. There is also no potable water, so remember to pack more than you think you will need.
Great For All Ages
This viewpoint is great for seniors, kids, families, people with lots of outdoor experience, and people with no outdoor experience. Just be sure to follow "leave no trace" practices when entering Washington's wild spaces.
Parking
There is a central parking lot at the trailhead for Artist Point. Parking for the Artist Point Trailhead is $5 per day per vehicle.
Prepare Food Ahead of Time
I highly recommend bringing lots of snacks and perhaps a picnic lunch to keep yourself well-fed for the journey. The last place to grab a bite to eat is the Mt. Baker Ski Area – Raven Hut Mid Mountain Day Lodge, about a 15-minute drive from the trailhead.
There are also plenty of dining options in nearby Glacier.
The Best Time of Year to Visit
Artist Point is open during the winter season but can be a treacherous trip and popular for its Artist Point Snowshoe Trail. As the last stop on Mt. Baker Highway, you'll have to traverse through avalanche territory, and checking the avalanche updates is advisable.
While accessibility can vary yearly, you can expect the road to be open from summer to fall without a problem.
Summer is the best time to plan a visit because you can pair it with one of the short hikes easily accessible from the parking lot. In addition, the camping season runs from November 15th to May 15th. Yes, Washingtonians snow camp!
Winter Visits
Just because the road is closed doesn't stop the dedicated from visiting Artist Point. You can always hike or snowshoe up the mountain to the viewpoint if you're visiting during the off-season.
Experienced snowboarders have been known to come to play around on the slopes. Or hike up in the spring months just to snowboard their way down.
The Best Time of Day to Visit Artist Point
Sunrise
Sunrise is definitely the best time to arrive at Artist Point. The sky behind Mount Baker erupts in a beautiful pink and gold backdrop. This is also when the parking lot is least crowded with other onlookers giving you the best chance at a peaceful morning wake-up.
Just be sure to bring along some coffee and get there before the sun actually rises behind the mountain for the best experience.
Sunset
Sunset is also a wonderful time to visit artist point. Just be sure to do your hikes earlier in the day so you can enjoy the sunset views straight from the parking lot before you descend back down the mountain road.
That's not to say that the middle of the day is a "bad" time to visit. It's a perfectly nice time to hike through the hills. But the area is definitely more photographic during the early morning and late afternoon hours. So be sure to time your visit for one or the other.
The Artist Point Hike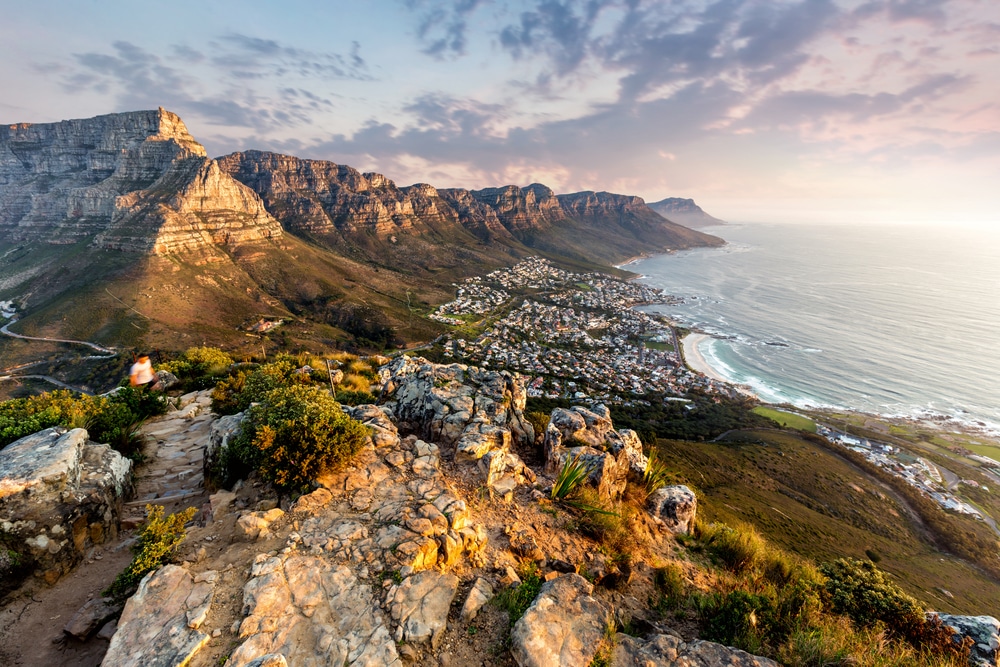 There are actually numerous hikes from Artist Point. The most popular for day-trippers are Table Mountain Trail and the Huntoon Point via Artist Ridge Trail.
These hikes can easily be completed in a single morning. They offer all the amazing views without any of the painful elevation gains that you see on the other alpine lake hikes.
Table Mountain is 3 miles round trip with a bit of elevation gain (but the views are worth it), and Artist Ridge clocks in at 1.2 miles round-trip for those just looking to leave the paved road and enjoy the view without breaking a sweat.
Technically, you don't even need to leave the warmth and comfort of your car to take in the 360-degree views straight from the parking area. It's perfectly acceptable to sit with a camp chair and a cup of coffee in hand right next to your parked car and watch the sunrise.
Other Hikes Around Mt. Baker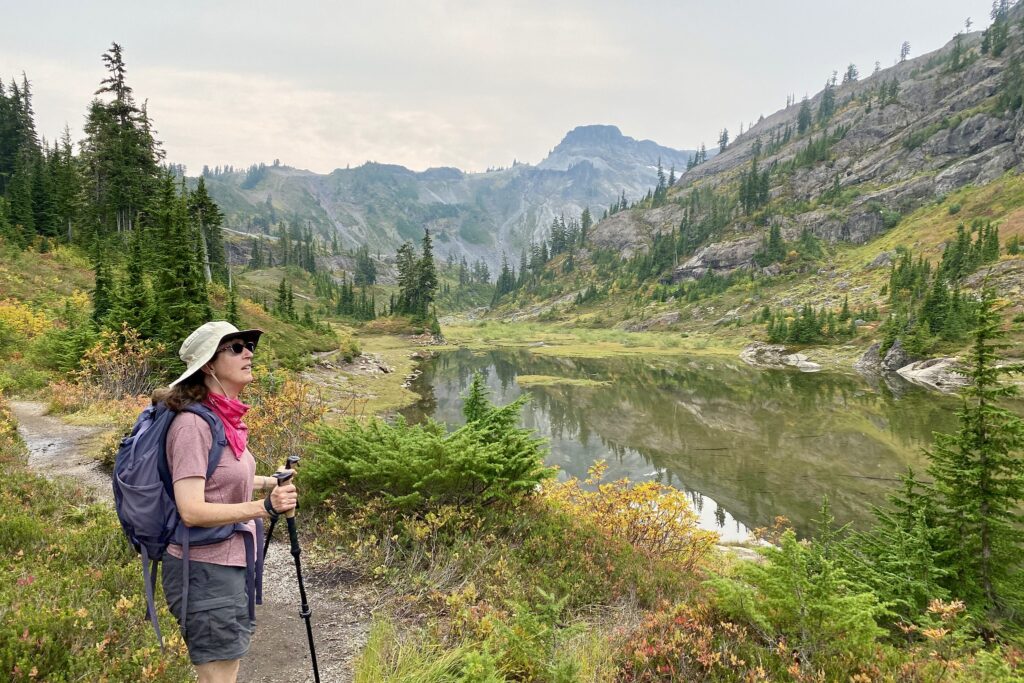 Enthusiastic hikers will enjoy the mountain hiking trails through the Mt. Baker Wilderness, like:
There are also longer hikes, like the Chain Lakes Loop Trail, better suited for regular hikers who are prepared for mountain conditions and lots of elevation gain.
Picture Lake is among the most recommended trails in the Artist Point area. However, unlike the other hikes, it doesn't begin in the Artist Point parking lot. Instead, this short walk around a beautiful lake reflecting Mount Shuksan is more of a stroll than a hike and can get quite busy during the summer months with photographers.
It's great for kids and seniors. You can reach the lake by driving back down the mountain. Or stopping on your way up. I promise you'll see it from the road. Only in Washington State do you get such exceptional views without ever having to leave your vehicle.
Take in the Views at Artist Point
Artist Point offers one of the best vistas in Washington State. It also is an excellent stop for those staying at a nearby vacation rental or on their way to the Mount Baker Ski Area or North Cascades National Park.
You can spend a morning or a full day just enjoying the scenery surrounding Artist Point. Kids and seniors alike will love the easy access to trailheads and breathtaking views all along the scenic byway.
Artist Point is truly inspirational and should be a must-see for anyone staying at a Mt. Baker vacation rental.