Just 16 miles south of the US/Canada border the single rugged spire of Mt. Shuksan squares off against the white-dusted face of Mt. Baker; an impressive and volatile landscape crafted by volcanoes, covered in heavy snow, and traversed by intrepid outdoor enthusiasts of every season. But arguably, this region is most beautiful and most visited in winter.
If you're looking for your next ski getaway this is it.
Mount Baker has more than 1,000 acres of skiable area and this lovely 6,000-foot tall ski park is dwarfed sitting in the shadows of its 10,000+ volcanic neighbors. Few ski resorts can offer carefully crafted runs facing a long-dormant volcano and a brilliantly white landscape broken only by jagged peaks piercing up through the snow and small pines dusted in white. But Mt. Baker can.
That's why it's renowned both locally and globally as an incredible ski destination for extreme terrain. This guide will help you navigate your first-time visit to the mountain.
Known for its plethora of backcountry skiing and garnering a cult-like local following, Mt. Baker is also the largest ski resort in Washington State. The tricky terrain facing the Deming Glacier wrapped around Mt Baker offers incredible backcountry trails to those willing to leave the semi-groomed piste behind, not to mention its widely varied groomed runs.
When the big snow begins to fall in heaps, Mt. Baker Ski Area welcomes skiers and snowboarders from all over the globe looking to sail through the powder this mountain range is famed for.
More snow than anywhere else in North America, in fact. Technically, Mt. Baker holds the world record for most snowfall in one single year at more than 95 meters within the 1998-1999 ski season.
This is just one of the many reasons Mount Baker beats out its Washington State rivals of Stevens Pass, Crystal Mountain, and Snoqualmie as the best ski and snowboard destination in the Pacific Northwest.
Let's dig into the logistics to help you plan your first visit.
Tips for Your First Time at Mt. Baker Ski Area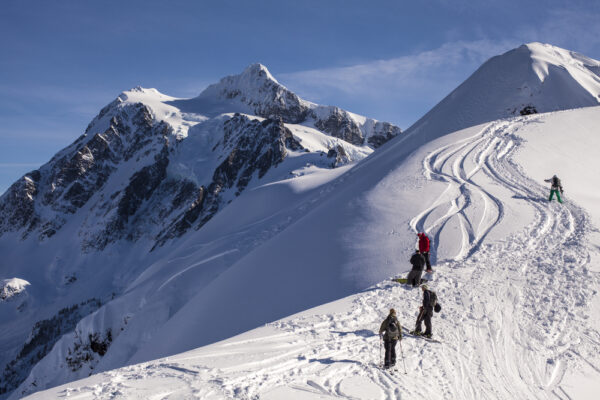 Whether it's your first time hitting the slopes ever or simply your first-time carving the major pow in Mt. Baker-Snoqualmie National Forest these are the things you need to know before you go.
1. Mount Baker Ski Area is Remote.
Like really remote. Aside from the small handful of bite-sized towns scattered throughout the borderlands of Washington, there's nothing but wilderness out here. This means preparation is key. And you're probably going to want more than a single day to justify the drive. 90 minutes from Bellingham, 3 hours from Seattle, and 2 hours from Vancouver— Mount Baker is perfectly positioned between all these major PNW cities.
2. Looking for Mt. Baker Lodging? Try Glacier.
To get the full mountain experience you should always immerse yourself in local life. This means staying in a small mountain town, not a resort. Preferably in one of the tiny ski-themed towns within a 30-minute drive from the ski area itself.
Glacier is that perfect little town. Brimming with cozy cabin rentals and just enough food options to keep you fueled before and after your mountain escapades.
3. Mt. Baker is known for being a "hard" mountain but it's great for beginners, too.
When you peruse the ski map and see an arena covered in high-risk runs and double black diamonds, you could be excused for thinking this mountain is only for expert-level skiers. But there are plenty of beginner-level runs, too.
Don't follow the locals into the backcountry unless you are a very experienced skier prepared to dodge tree wells and carve your own paths through the snow.
If you're a true beginner, lessons aren't too pricey either and Mt. Baker Ski Resort is a good place to learn the basics. All skiers ages 7 and up can get rentals, lift tickets, and package lessons for under $100. Just be sure to arrive before 11:30 am. You can also opt for private lessons if group lessons aren't your thing.
4. Come Weather Prepared.
Mt. Baker is quite literally the snowiest place on earth. With this much fresh powder, it's only reasonable to expect a fair share of cloudy or overcast days. But it's also known for brilliantly sunny bluebird days. Bring lots of layers so you're prepared for any weather and snow conditions.
5. Try to time your trip for the annual Mt. Baker Legendary Banked Slalom.
Every February snowboarders flock to the mountain for the natural half-pipe holding the banked slalom run. The event is one of the busiest weekends on the mountain and quite a sight to behold even if you don't plan to participate.
Although there is no official terrain park within Mount Baker it has gained popularity with local boarders since it was one of the first ski mountains to allow snowboarders on the slopes back in 1985.
Getting to Mount Baker Ski Area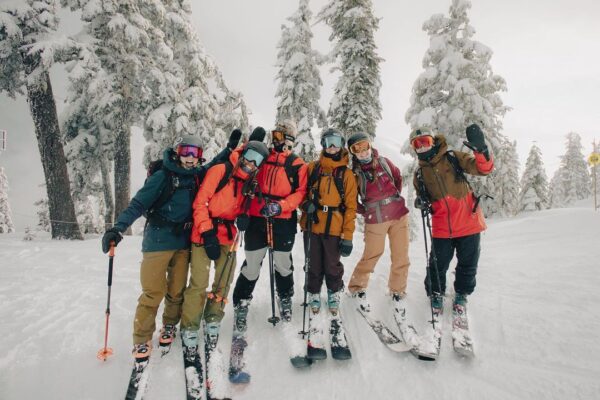 Navigating Mount Baker Ski Area is simple. Follow state route 542 to its end. This highway is also aptly named the Mt. Baker Highway or Mount Baker scenic highway. Winding through tree-lined potholed forest roads expect tunnels of snow that can sometimes tower 15 feet or higher above you.
The true end of this road is the stunning vista at Artist Point but about 2.5 miles before reaching the dead-end parking lot, you'll clearly see the turn-off marked "Mount Baker Ski Area".
Winter tires and chains are 100% required if you plan to drive yourself. For those smart enough to stay in the little town of Glacier, you can take the Baker bus from Whatcom County (Glacier) if you don't want to drive the treacherous old forest roads to reach the ski area yourself.
Safety in Mt. Baker Ski Area
Dangerous areas are common throughout the park which is why it is so vitally important that you pick up a trail map before you hit the slopes. In addition to the cliffs and chutes, much of the mountain is covered in moguls. Fortunately, there is usually a smoothed area alongside the run for those who want to avoid them.
You might be tempted to venture outside the designated runs into Mt. Baker Snoqualmie National Forest but this is a "Ski At Your Own Risk" area and not recommended for beginners. If you do follow the locals out of bounds be sure to watch out for tree wells in the densely wooded forest.
Ticket Prices, Rental Gear, & Other Logistics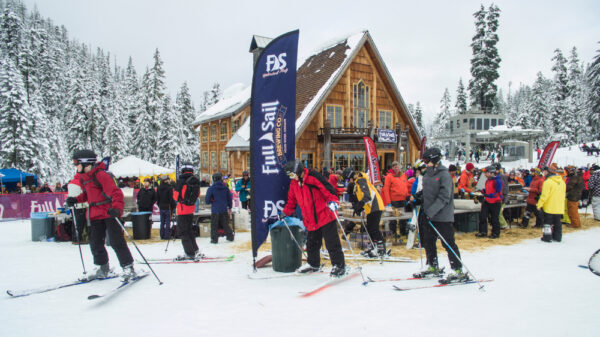 Let's talk cold hard facts and numbers. Here's everything you need to know to plan your trip.
Although it varies year to year based on snowfall, usually the mountain is fully functional from Mid-December through the end of April. Mt. Baker averages 663 inches per year because it has an abnormally long winter season when compared to other U.S. ski resorts.
Mt. Baker Ski Area is open daily from 9 AM – 3:30 PM during the winter.
You can check the current lift ticket prices on their website. For the 2022-2023 season, they are set at $87 per person for a single-day lift ticket and they cannot be purchased online in advance. Mount Baker sells a limited number of season passes unlike many other mountains in the area. This allows more day-pass skiers to visit the mountain.
There are 8-quad chair lifts on the mountain and two handle tows.
There are also 2 different base camps; White Salmon and Heather Meadows. Heather Meadows day lodge is known for having the best food on the mountain for those who forgot to pack a lunch. White Salmon also has decent food options and as a bonus offers excellent views of Mount Shuksan.
The nearest ATM is at Graham's Store in Glacier. If you plan on paying in cash make sure to grab enough before you hit the slopes. Glacier is about 30 min away and as I mentioned, the closest real PNW town to sleep in.
There is no sledding or tubing within the park.
Ski rentals are available on the mountain at Heather Meadows Base Camp Area for about $50. Those looking to save a little money can also rent gear in Glacier at Glacier Ski Shop.
A Look at the Mountain Layout
The routes on Mount Baker are rated on the standard scale of green circles (easy), blue squares (medium), black diamonds (hard), and double black diamonds (expert).
If a certain lift leads to a majority black diamond or double black diamond runs then it will be marked experts only. These will be found mostly on the Mount Baker side of the ski area rather than the Mount Shuksan side.
If you're looking for a perfectly groomed piste this isn't the place for you. The leave-it-alone attitude practiced by Mt. Baker enthusiasts is mirrored by the mountain staff. Don't get me wrong, all the major runs are groomed but with the amount of snowfall each year they can't be held to the same smooth surface expectations as other more traversed resorts in the area.
After all, Mount Baker is designed as a local experience not focused around a resort. Those looking for a challenge and lots of powder will be happy here.
Noteworthy Routes for First-Time Visitors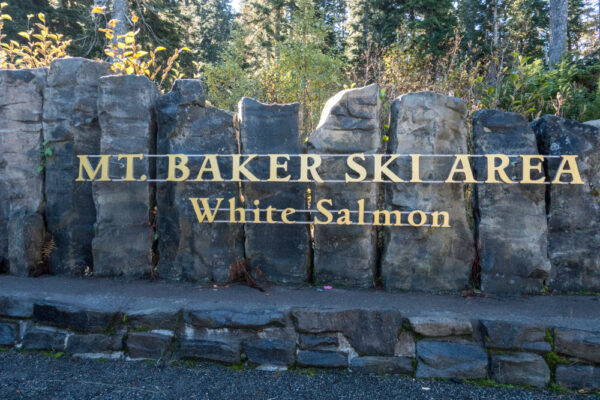 It is absolutely vital that you pick up a map from one of the base camps or before you leave the town of Glacier but here are a few of the favored routes on the mountain for all skill levels.
Best runs for beginner + middle-of-the-road skiers:
Nose Dive
White Salmon
Daytona
Best Routes for Advanced + Expert Skiers:
Chair 3 offers easy access to green and blue runs while chair 1 heads straight to the summit, giving you an all-access pass to the most difficult routes on the mountain. Chair 5 has the most blue runs for middle-of-the-road skiers and snowboarders.
Enjoy a Ski Trip Unlike Any Other
A winter ski getaway to Mt. Baker will be unlike any other you've experienced. Whether you're a beginner looking to strap on a board or pop in your skis for the first time or you're an expert on the board eager to hit the backcountry, we're sure Mt. Baker will be a trip you talk about for years to come.