Rolling up to Glacier, Washington you've reached the end of the line. The last food, the last lodging, the last civilization—if you can call this small mountain hamlet civilization, that is.
From here, there's nothing but evergreen forest and Mount Baker until the paved road disappears completely.
Glacier is a popular tourist destination for those who want to shed the human distractions of the city and relax in nature. With a year-round population of just 210, the hikers, skiers, snowboarders, and river rafters that flood this town seasonally far outnumber the locals, which is why there is a small number of restaurants to choose from at all.
Post-covid, many of the local favorites have changed. The historic Graham's Restaurant and The Frosty Inn are no more, Milano's has moved to the bustling streets of Bellingham, and new favorites have taken their place.
The Glacier restaurants on this list are broken into two categories. The first handful are actually in Glacier. The second group is near Glacier, spread from the town of Deming to the ski slopes of Mount Baker itself. As each is on the Scenic Mt Baker Hwy, you won't have to drive more than 30 minutes to reach any foodie spot on this list if you're staying in Glacier.
Best Restaurants in Mt. Baker Ski Area
TAll of these restaurants are within Whatcom County and a 30-min drive from Glacier, WA.
Heather Meadows Cafe ($$)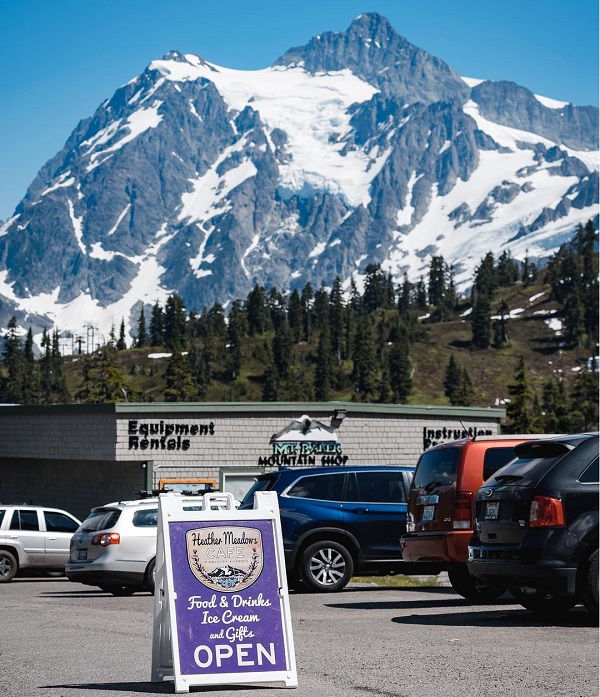 Mt Baker Ski Area, Mt Baker Hwy, Deming, WA
Open seasonally
Located on the second floor of the Heather Meadows Ski Lodge, this is the best place if you want unrivaled views of Mount Shuksan while you eat. With incredible panoramic windows facing some of the best mountain scenery, it just can't be beaten. Although the food is quite expensive for what you're actually getting, it's to be expected when served mountainside with a view.
They pair up with local farms to get the freshest and most sustainable produce for their soups, salads, and sandwiches. Some of their partners include Kragnes Family Farm, Williams Blueberry Farm, Dandelion Organics, Avenue Bread, Tony's Coffee, Acme Ice Cream, and more.
The homemade blueberry lemonade and pre-packed lunches for day hikers come highly recommended and there are lots of options available for vegans and vegetarians.
Only open seasonally, usually from 11 AM to 5:30 PM, it's important you check the hours of operation before you visit.
Raven Hut Mid Mountain Day Lodge ($$)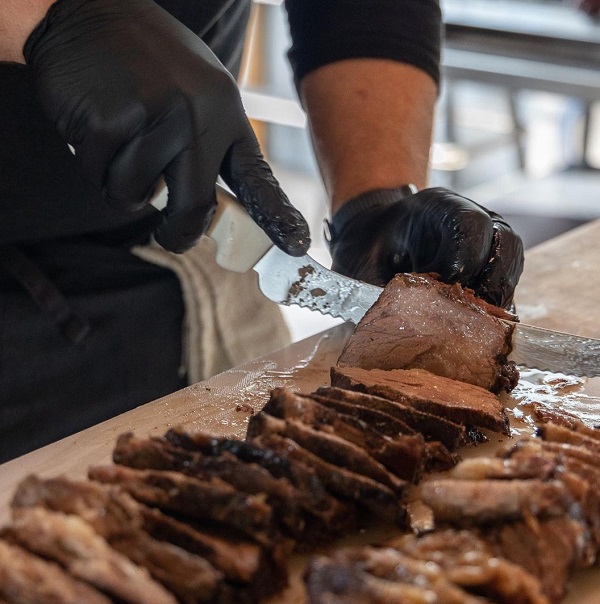 Mt Baker Ski Area, Mt Baker Hwy, Deming, WA
Open seasonally
Built-in the classic Cascadia style of the 1920s, this cabin-esque lunch fill-up spot is great for skiers and hikers looking for a quick bite. Serving international and American classics like burgers, pulled-pork sandwiches, salmon chowder, sushi rolls, and Thai noodle salad it's got a little bite for everyone. The fries are also top-notch.
You can also nab some pre-packed snacks, baked goods, and lunches in case you forgot to pack them this morning for a full day of adventuring on the mountain.
Starting at 11 AM, you can also imbibe some mountainside beer and wine.
Best Restaurants in Glacier, WA
Chair 9 Woodstone Pizza & Bar ($$)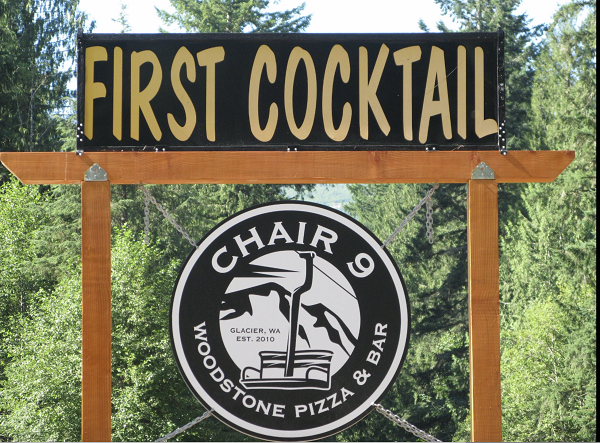 10459 Mt. Baker Hwy, Glacier
Hours: Mon-Thurs 1am – 12am, Fri-Sun 11am – 1am
Come take a seat at Chair 9 after enjoying the 8 chairlifts at Mount Baker Ski Area this winter. Hugely popular during the powder season, there's no better place to refuel than Chair 9 Woodstone Pizza.
They have a huge selection of delicious gourmet pizza and plenty of beer to wash it all down. While the wood-fired pizza is what the bar is known for, they also serve high-quality burgers, steak, salmon, crab cakes, baby back ribs, and an array of tasty appetizers.
Opening at noon on the weekdays and 11 AM on the weekends the bar stays open as long as there are customers in the seats enjoying the live sports, live music, and game room. There are also areas designated for family dining if you're traveling with children.
The Heliotrope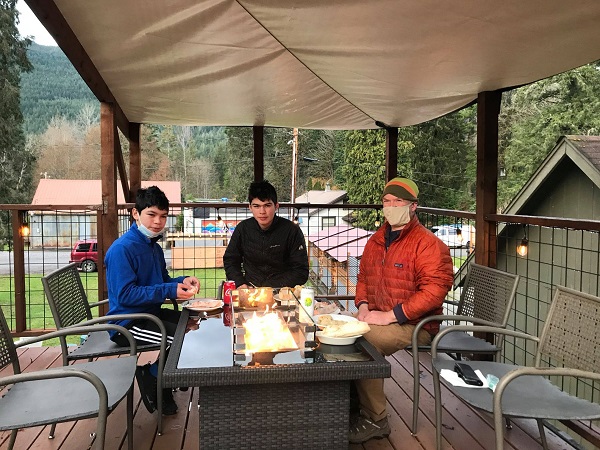 9990 Mt Baker Hwy, Glacier
Hours: Thurs-Sun 4 pm – 8pm
For those craving international cuisine, you can't do better than Heliotrope. Owned by locals with a love for travel, they've combined their favorite flavors abroad with locally caught and grown ingredients.
The perfect meal for after a day spent on the mountain, Heliotrope combines great food with an extensive beer and wine list. While we're sure you'll enjoy your meal here, you'll most likely want to come back day after day for the laid back atmosphere and welcoming staff.
Wake 'n Bakery ($)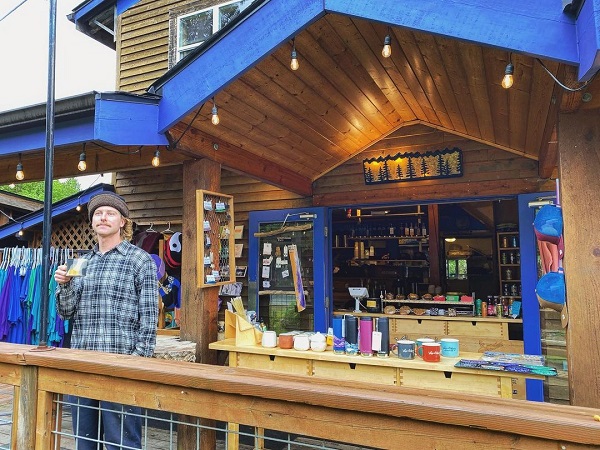 6903 Bourne St, Glacier, WA
Hours: 7:30am – 5pm
Wake up to the rich intoxicating smell of Wake n' Bakery's organic and fair-trade bean brew and $7 brunch mimosas. This community staple makes an effort to support sustainability by utilizing lots of locally sourced products for their handmade baked goods.
Savor the breakfast sandwiches, wraps, paninis, and house-favorite soups inside, on their outdoor patio, or their upstairs seating with epic views of Mount Baker on a clear day. They also offer both gluten-free quiche and vegan-friendly Thai Peanut Wraps in an effort to cater to all kinds of dietary restrictions.
During the high seasons of summer and winter, you can expect the bakery to be open and busy from 7 AM to 5 PM. Enjoy their summertime weekend BBQs to bring all the outdoor adventurerers together. They are open during the off-season but you should check their hours online before you visit.
Best Restaurants in Maple Falls
All of these restaurants are within Whatcom County and a 10-min drive from Glacier, WA.
Michoacana 3Mendos Tacos ($)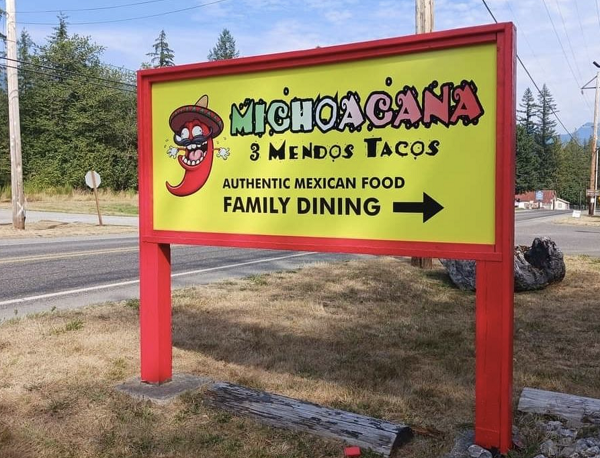 7471 Mt. Baker Hwy, Deming, WA
Hours: Mon-Thurs 11am – 9 pm, Fri-Sat 11am – 10pm, Sun 11pm – 9pm
Karaoke offered Thurs-Sun
Simple, delicious, fuel for adventurers; that's what this little silver roadside taco truck is offering patrons. Washington State is known for its exceptional Mexican cuisine and Michoacana 3Mendos Tacos is no exception.
Open 7 days a week from Noon-7 PM this family-run restaurant serves traditional pozole, tostadas, tamales, tacos, and burritos with your choice of asada, chicken, chorizo, pork, tongue, and intestines as the protein. Paired with rice and beans and a freshly made thick horchata or bottled pineapple soda make this a full meal. They also have a full bar serving beer, wine, liquor, and classic frozen drinks like margaritas and pina coladas.
Fuel for a long day of skiing or hiking depending on the time of year. If bang for your buck is a high priority you should check their daily meal specials on the menu board.
Joe's Fine Coffee ($)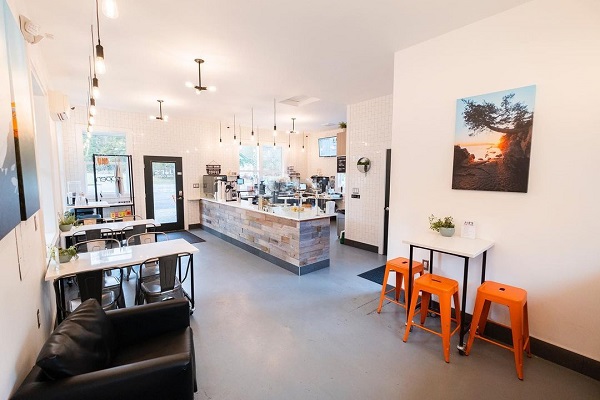 7463 Mt. Baker Hwy, Deming, WA
Hours: Mon-Thurs 8am – 2 pm, Fri 7:30am – 2pm, Sat-Sun 8am – 4pm
There's no shortage of coffee and cafes on Mt. Baker Highway. This cute coffee & tea shop is budget-friendly and offers a cozy atmosphere to visitors looking for its infamous cinnamon roll cookies, pumpkin loaf, and bacon waffles. They also have a variety of pastries, burritos, sandwiches, and house-made granola if you're looking for a slightly more healthy breakfast option.
The coffee here is known to be some of the best in the area, so if you're a coffee snob you've come to the right place. Come in for your coffee or grab it on-the-go at their drive-thru. You can also swipe some of their neat in-store merch.
Best Restaurants in Deming
All of these restaurants are within Whatcom County and a 20-min drive from Glacier, WA.
North Fork Brewery ($$)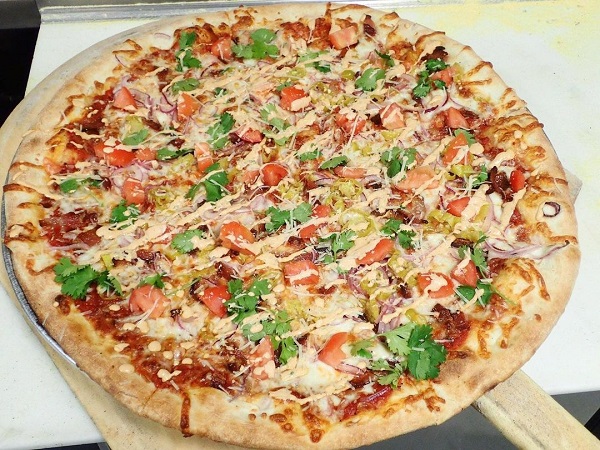 6186 Mt Baker Hwy, Deming, WA
Hours: Mon-Fri 1pm – 9pm, Sat-Sun 12pm – 9pm
They call this place the local beer shrine. A little log cabin off the scenic Mt. Baker Highway, just a short drive from Bellingham, this is probably the most well-known and busy joint on this list.
Known for ice-cold beer and piping hot pizza, the dining room of this dive bar is filled with beer-centric antiques and memorabilia including an entire wall of unique vintage bottles. It's worth a stop to pay homage at the beer shrine even if you don't stay for the beer-themed apps like beer cheese dip, stout French onion soup, and spicy ale steamer clams.
Even the pizza here is made with beer inside the dough. The crusts are handmade daily with fresh cheeses, veggies, and meats on top and are meant to be paired with the British Ales and barrel-aged Belgian-style sours and lagers inside the taproom.
There's outdoor seating for sunny PNW days and as it's super close to Glacier they serve slices of peanut butter pie fresh from Wake n' Bakery for dessert.
Open every weekday from 1 PM- 9 PM and Noon – 9 PM on the weekends.
Welcome Store ($$)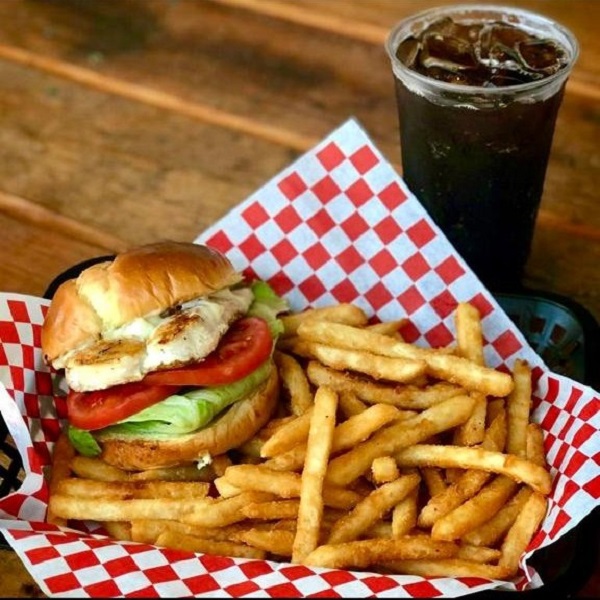 5565 Mt Baker Hwy, Deming, WA
Hours: 6am – 10pm (kitchen opens at 10am)
While you might initially mistake the Welcome Store as only a neighborhood convenience shop, there's a whole lot more going on here than just a place to pick up the essentials.
Serving breakfast, lunch, and dinner from their deli and grill alongside a full bar, the Welcome Store is the perfect spot for you to grab a delicious bite to eat and pick up some snacks and groceries to bring back to your vacation rental home or to pack a picnic for your day exploring Mt. Baker Snoqualmie National Forest.
From burgers to ribs and plenty in between, we're sure you and your family will enjoying grabbing a bite at the Welcome Store.
Rifugio's Country Italian Cuisine ($$$)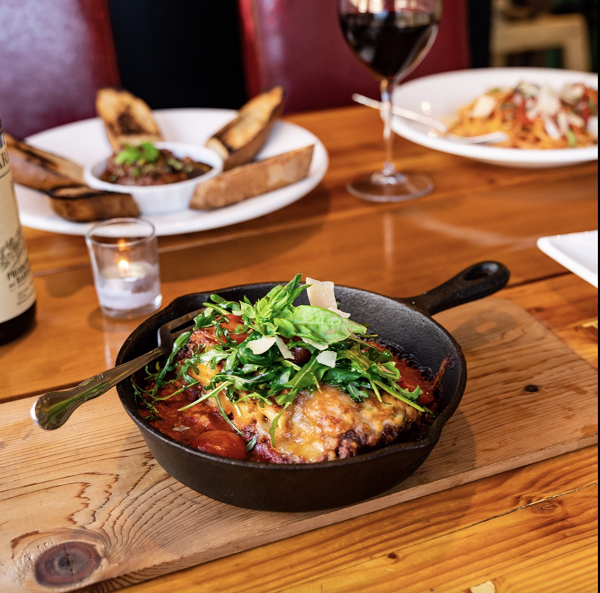 5415 Mt. Baker Hwy, Deming, WA
Hours: Thurs-Fri 4pm – 9pm, Sat 10am – 3pm, 4pm – 9pm, Sun 10am – 3pm, 4pm – 8pm, Mon- Wed Closed
If you've enjoyed a full day in the mountains you might find that the best way to refuel is with a slightly upscale Italian meal home-made with locally sourced ingredients and a large glass of wine. At Refugio's, you'll sit at wooden tables great for large groups and savor the rotating seasonal menu and some year-round favorites.
Ricardo's Slaw (named after the chef), the nutty fresh-baked bread made from grains grown in the Skagit valley, carefully crafted lasagna, meatloaf, and spaghetti are just a few of the menu items that keep bringing patrons back. There are also some less traditional items on the menu like filet mignon, balsamic-glazed double-chocolate tiramisu, and a seafood stew paying homage to the PNW coast. Eggs Benedict, stuffed pancakes, and potato cakes with corned beef join the menu for breakfast.
You can also pre-order a family-size lasagna for takeout to heat at your accommodation in Glacier if a sit-down meal sounds like a little too much to handle.
Grant's Burgers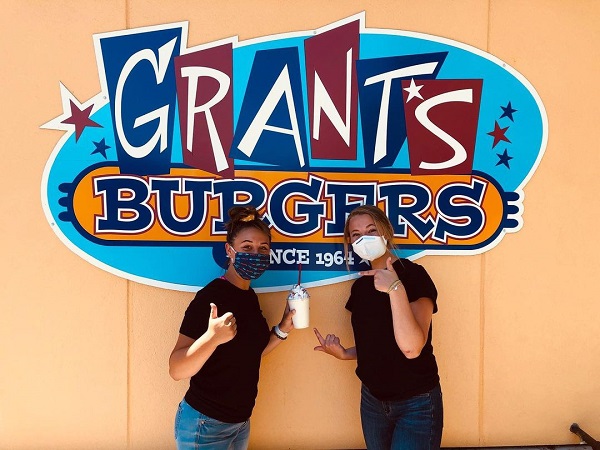 4965 Mt. Baker Hwy, Deming, WA
Hours: Mon-Sat 11am – 7pm
In the mood for something classic? Grant's Burgers has been serving up the perfect hamburger, corn dog, and french fries since they first opened in 1964. Since then, very little has changed with their menu. What can you expect when you have such a delicious thing going?
For a filling grab-and-go meal that's much more satisfying than traditional fast food joints, stop by Grant's Burgers. Just be sure to save room for one of their milkshakes!
Glacier Ice Cream Store ($)
9966 Mt Baker Hwy, Deming, WA
Alright, so ice cream doesn't really count as a "best restaurant in Glacier" meal. But this roadside shop marked by a simple sign on Mt. Baker Hwy offers up some noteworthy frozen treats that you can't pass up if you stay in the small town.
Enjoy generous scoops of cappuccino and coconut mango ice cream made with locally-sourced dairy and served in a chocolate cone with a healthy amount of freshly chopped coconut sprinkled throughout.
There are always lots of flavors to choose from and the owner is welcoming and kind to all his guests making this a great local business to support.
Best Restaurants in Acme
All of these restaurants are within Whatcom County and a 35-min drive from Glacier, WA.
Acme Diner ($$)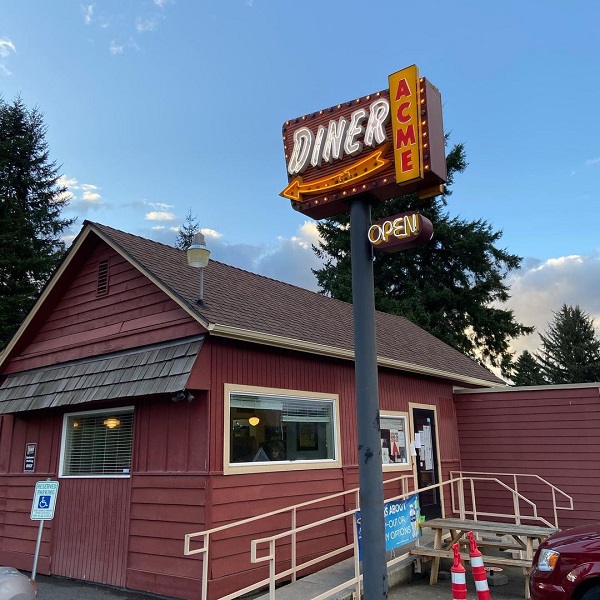 2045 Valley Hwy, Acme, WA
Hours: Thurs-Mon 7am – 8pm, Tue & Wed Closed Chair 9 Woodstone Pizza & Bar
Have a hankering for a meal at a classic American diner? This is the place for you! Not only in the ambiance perfect for a retro meal filled with nostalgia, Acme Diner uses only farm-fresh ingredients. A meal here means quality plus quantity!
Serving breakfast all day, it's never a bad time to stop in for a bite at Acme Diner. Personally, we can't get enough of their desserts and highly recommend their ice cream with a slice of pie.
Blue Mountain Grill ($)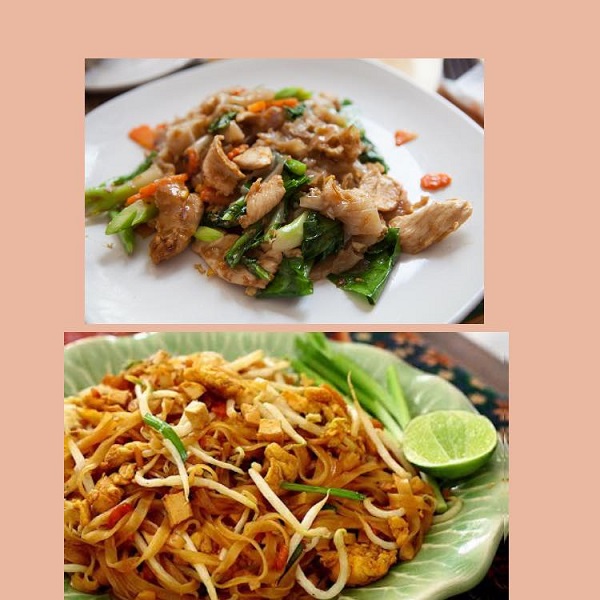 974 Valley Hwy, Acme, WA
Hours: Thurs – Sun: 11am – 8pm, Mon-Wed Closed
This family-friendly restaurant is the perfect place to enjoy a stunning view with your meal. For delicious comfort food with a view that's out of this world, you'll love eating at Blue Mountain Grill. To make this diner even better, they do serve cocktails, beer, and wine, as well. So stop by for a drink and a view or a full course meal.
If you enjoy the food here, keep in mind that they also do catering. This is ideal for big groups staying at our cabin rentals that want great meals in the comfort of the rental, without needing to cook!
Best Restaurant in Everson
All of these restaurants are within Whatcom County and a 35-min drive from Glacier, WA.
Herb Niemann's Steak and Schnitzel House ($$)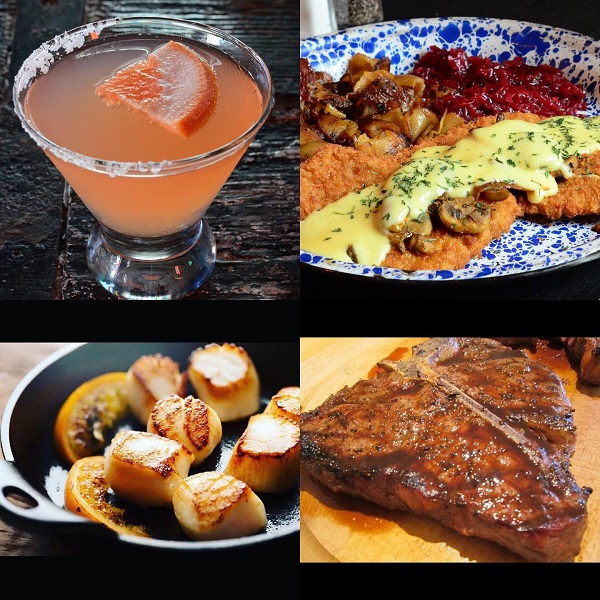 203 W Main St, Everson, WA
Hours: Mon-Thurs 4pm – 9pm, Fri-Sat 4pm – 10 pm, Sun 11am – 9pm
Meat lovers rejoice – Herb Neimann's has exactly what you're craving! With some of the best steaks, cuts of meat, and fish selection in town, you'll won't leave here hungry. This is a place best enjoyed with a big appetite after a day spent hiking, skiing, or biking.
Dine in to bask in the soft glow of their lively yet cozy bar or order takeout to eat in total comfort at your cabin rental. If you do decide to dine in and want to bring the kids along, they offer a kid-friendly section, as well. Adults, you'll be pleased by their vast wine and craft beer selection from their full bar.
The Bourbon Bar & Grill ($$)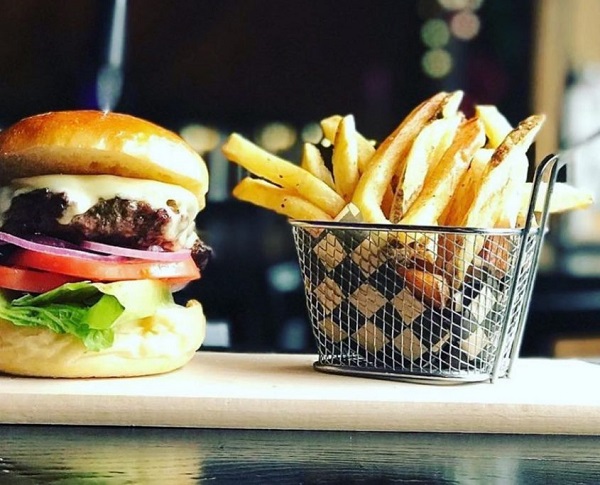 108 W Main St, Everson, WA
Hours: Wed-Thurs 4pm – 9pm, Fri-Sat 12pm – 12am, Sun 12pm – 9pm
Ready to kick back to some live music with your meal? The Bourbon Bar & Grill is the best place in the area for local live music. Some nights, they even offer karaoke so you can get on the stage and perform yourself! Keep an eye on their events page to see what local acts are playing or when it's karaoke night.
Offering great food and specialty cocktails, Bourbon Bar & Grill is worth a stop, music or not. Do keep in mind that on the weekends, it's only family-friendly until 9pm, after that it time to let loose with the kids tucked into bed.
Prefer brunch? The Bourbon Bar & Grill serves a great one every Sunday.
Three Flavors Kitchen ($$)

507 Nooksack Rd, Everson, WA
Hours: Tues-Sun 6am – 9pm, Mon 10am – 9pm
This family-style kitchen offers it all! Their name "Three Flavors" comes from their blend of Mexican, Italian, and Asian cuisine. No need to decide between the group what you're in the mood for, here everyone can satisfy what they're after! They ever serve an American-style breakfast.
With a whomping 6 pages menu and plenty of alcoholic and non-alcoholic beverages to wash it down with, there's no way you won't find just what you're craving here at Three Flavors Kitchen.
Cafe 544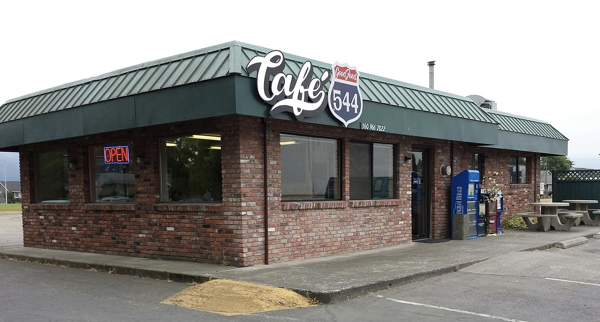 302 E Main St, Everson, WA
Hours: Mon-Sat 8am – 8pm
Located right in the heart of Everson, Cafe 544 is a family-friendly restaurant. This is the perfect small-town diner to sit back, relax, and enjoy a great meal with no frills.
Serving up American classics for breakfast, lunch, and dinner in a laid-back atmosphere, you'll be able to rub elbows with the locals during your morning coffee or afternoon beer.
Valley Tap House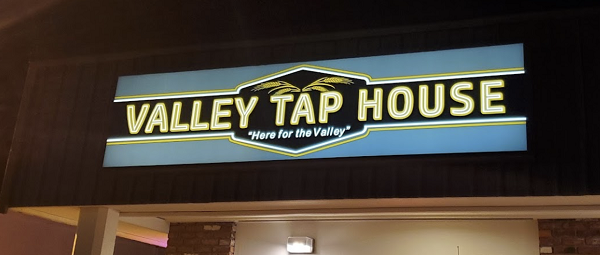 115 Kisch Dr, Everson, WA
Hours: Mon-Thurs 2pm – 8pm, Fri 2pm – 10pm, Sat 1pm – 10pm, Sun 2pm – 7pm
Interested in the local beer scene? Then you can't miss out on Valley Tap House. With 12 beers always on tap, you'll be able to try a few fan favorites and also a handful that rotate. They also serve ciders and wine. Even if you've been here before, chances are there's a new beer for you to try during this visit.
Here on game day? If you prefer catching the Seahawks in a lively local environment, you'll love watching the game from here.
Xtreme Bean Espresso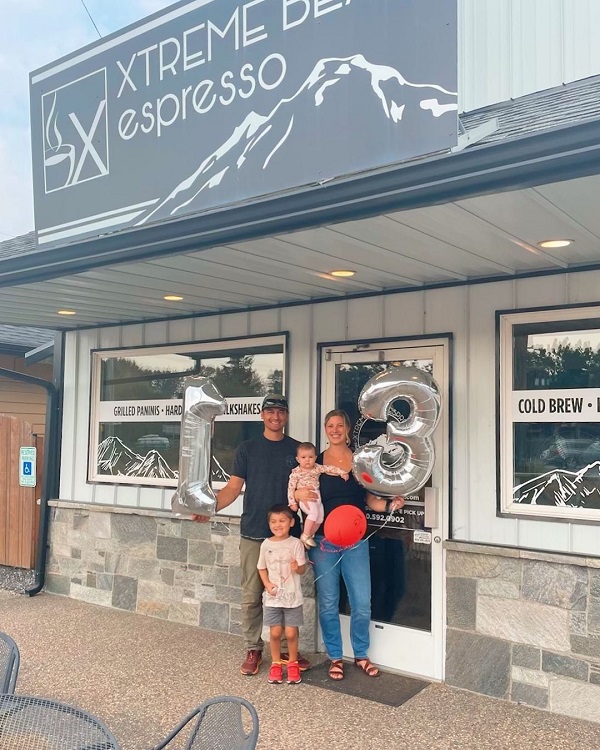 3706 Mt Baker Hwy, Everson, WA
Hours: Mon-Sat 7am – 2pm, Sun 8pm – 2pm
Located in Nugent's Corner, Xtreme Bean is a small coffee stand that also serves good food. If you're a coffee aficionado, this is the place you'll want to start your day. Choose from coffee classics or try one of their unique concoctions.
Xtreme Bean has a drive-thru so it's definitely the most convenient place for a grab-and-go start to your day.
Eat Up While in Glacier, WA
Although a small town, Glacier and the surrounding area has plenty of great restaurants for you to choose from. We're certain you and your family will enjoy these restaurants as much as we do. There's nothing better than eating local at places you can't try anywhere else while on vacation and these restaurants in Glacier are the perfect examples!