Nestled in the evergreen forests of Northern Washington at the foot of the Cascade Mountain range, nearly to the Canadian border, is Silver Lake Park. Small and unassuming, this small county park packs quite a punch for fishing, boating, and outdoor enthusiasts in the greater Bellingham area.
In fact, it's beautiful and serene enough to draw visitors from all over the state or as a day trip from a luxe vacation home in Bellingham. Located off the scenic Mt. Baker Highway, the lush green vistas on the drive out are as much a part of the experience as the park itself.
Here's a quick guide detailing everything you need to know about the 400-acre park.
About Silver Lake Park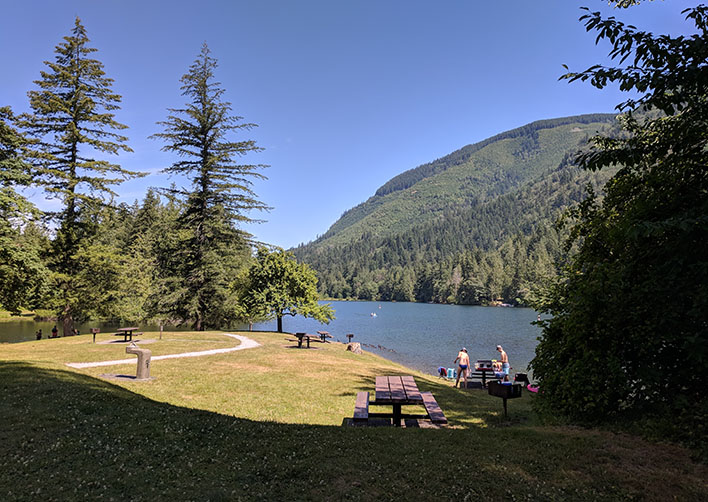 Address: 9006 Silver Lake Rd, Maple Falls, WA
Open: The park is open for day use between 8 AM and dusk.
Washington State is absolutely overflowing with bucket list-worthy park and recreation areas. It's a testament to the sheer natural beauty of the state. Silver Lake Park is one of three Whatcom County managed parks that encompasses an astonishing 400 acres of green space and recreation areas.
Silver Lake Park was established in 1966 and has since expanded from a simple, protected piece of land to include several rental spaces to accommodate large groups, picnic sites equipped with picnic tables, and outdoor cooking areas to plan the perfect BBQ.
Located just forty minutes east of Bellingham, this park offers picnic shelters, showers, hiking trails, and even horse stables. It's the perfect spot for a family outing, romantic getaway, or solo adventure into nature.
Getting There
From Bellingham, you'll take Mt Baker Highway (SR 542 E) and follow it for forty minutes east as it moves towards the Canadian border. You'll pass the small towns of Kendall and Maple Falls before seeing signs for Silver Lake Park.
Considering the area's remoteness, it should come as no surprise that there is very little cell or Wi-Fi service around the park. Therefore, rather than relying on an online map, I recommend downloading an offline version and plugging in the park address instead.
The Best Time to Visit
While it is technically possible to visit the park year-round, the weather conditions are most amenable between April and October. Unfortunately, this will also be the most crowded time of year, but with 400 acres, there's plenty of room to spread out.
Renting Park Facilities
If your visit to Silver Lake Park requires using the park's rentals, there are plenty of options. The park service has constructed several "day use" areas that you can rent if you're only staying for the day.
Silver Lake Day Lodge is a large indoor facility that can be rented out for large groups and even more formal events, like weddings.
The Maple Creek, Cedar, and Fir picnic shelters are equipped with outdoor kitchens perfect for a sunny summer BBQ. Day rental of Maple Creek picnic shelter costs $125, while the smaller Cedar and Fir picnic shelters cost $40 per day and can comfortably seat 15 to 25 people, depending on the shelter.
What to do in Silver Lake Park
Activities primarily revolve around the lake in this park. Silver Lake is one of the premier boating and fishing destinations in all of Whatcom County.
Washington is known for its lovely lakes, and this one certainly fits the bill. Placid, clear, and surrounded by tall spires of green from the thickly vegetated primary-growth forests, you'll feel like you're in a woodsy fairytale.
Watersports and Boat Rentals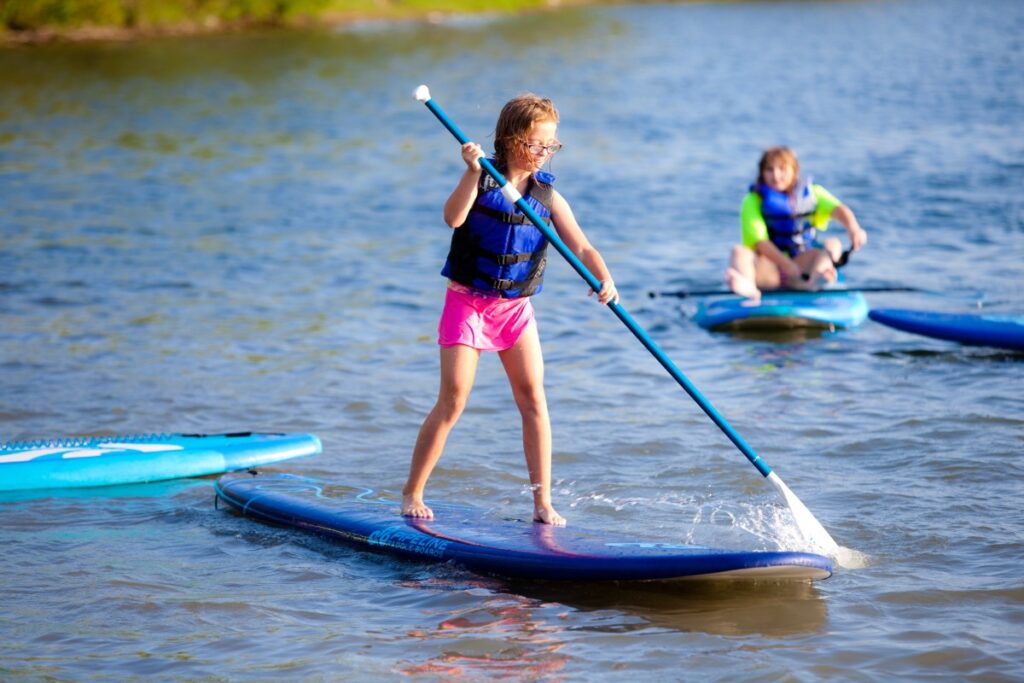 At the park office, you can rent kayaks, SUPs (stand-up paddleboards), rowboats, pedal boats, and canoes to explore the lake's shores. Keep in mind, however, that you must be over 18 and bring the provided life jackets with you at all times. Equipment rentals cost between $10 and $15 per hour, depending on the floatation device. Rowboats can also be rented by the day for $50.
The Boat Launch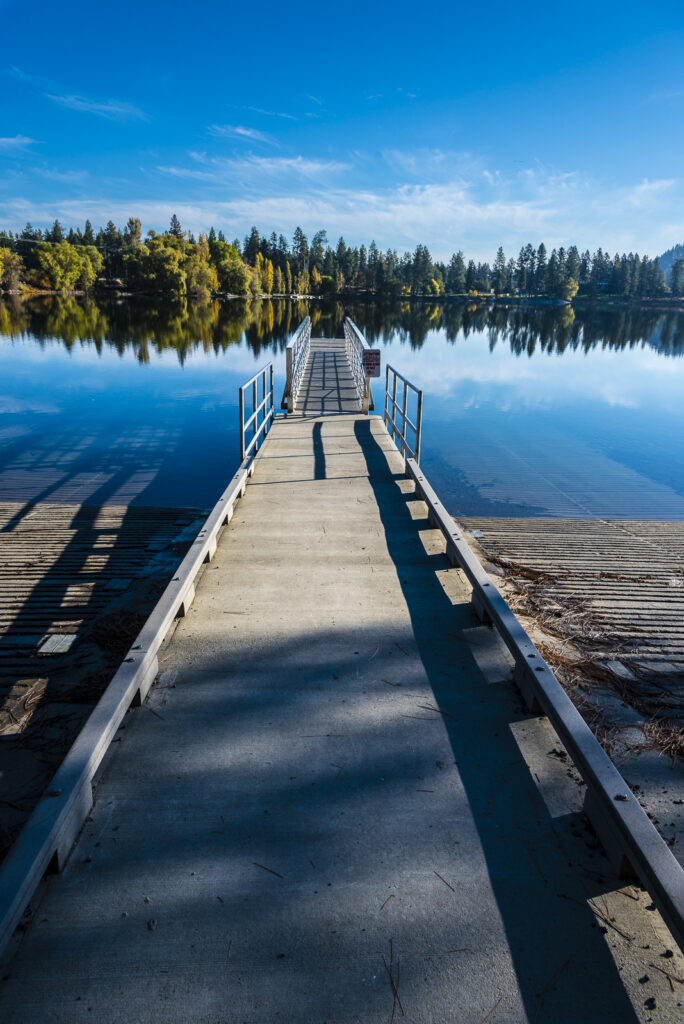 For those with their own mode of water transport, there is a public boat launch and ramp near the main parking area. There is also a Washington Department of Fish & Wildlife boat launch at the north end of the lake off Camp Black Mountain Road.
You will need a Discover Pass to park at the second boat launch. Keep in mind that the lake has a 10-horsepower motor restriction for all watercraft. This measure is set to keep a calm and peaceful setting for all guests. It also helps keep the local flora and fauna within the lake safe.
Fishing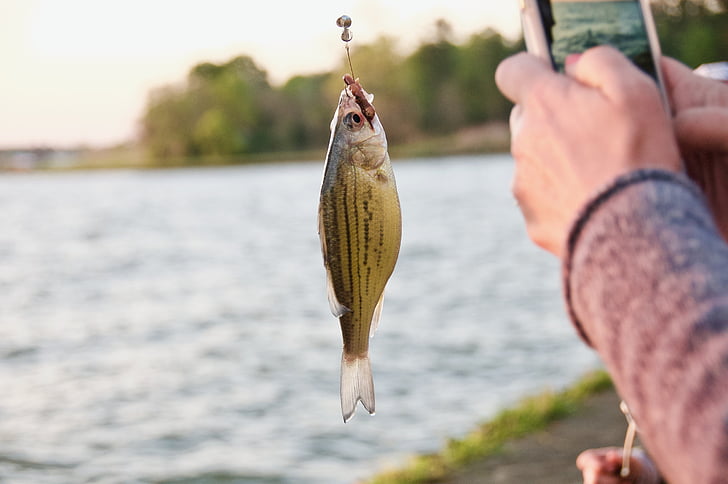 This is a wonderful lake to try your hand at fishing, whether you're an experienced fisherman or a novice. You'll find vibrantly colored rainbow trout and coastal cutthroat trout in the waters. The fishing is best here in the spring months of April and May.
Be sure to get your local fishing permit and check the local regulations on fishing before your visit.
Hiking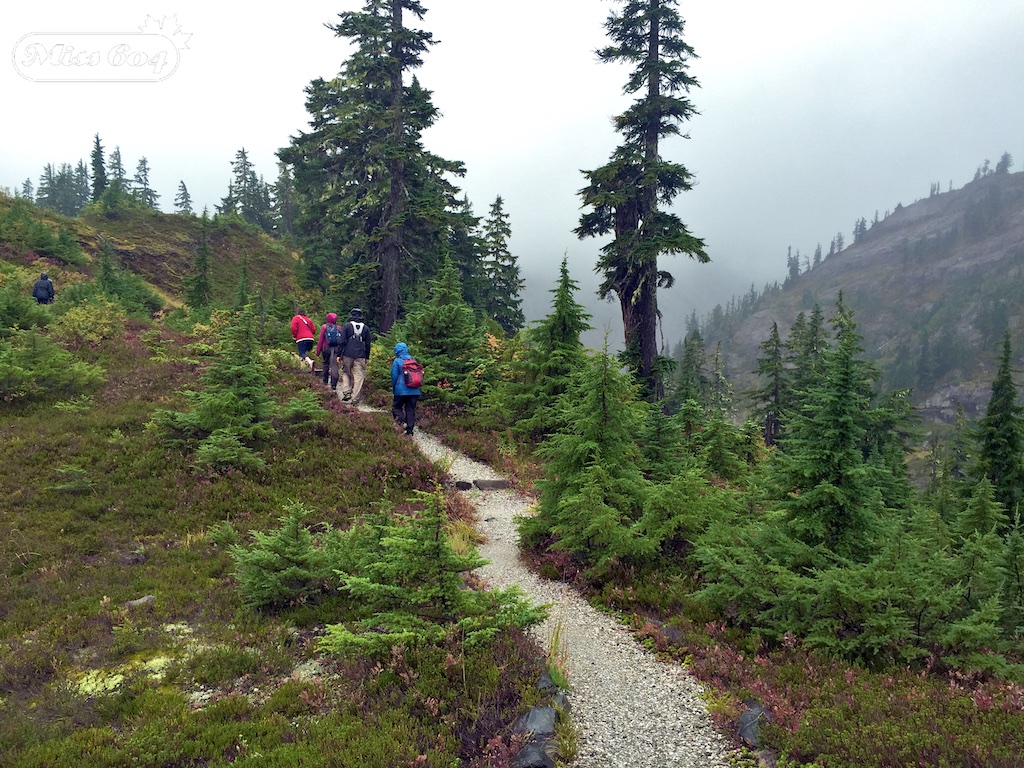 As with most Whatcom County parks, there are more than a few hiking trails to keep an active visitor busy. While Silver Lake Park doesn't have the lengthy trails you may find around Mt. Baker, it does have three short but sweet hikes that the whole family can enjoy.
Campground Connector Trail
Difficulty: Easy
Length: 2 miles
This trail does exactly what the name describes. It connects the collection of campsites within the area. So if you're just looking to stretch your legs after a swim or lounging on the shore, this is a great walk through the sparsely wooded area.
Canopy Loop
Difficulty: Moderate
Length: 1.5 Miles
Moderate for the region but easy by any regular hikers' standards, this short hike explores the quiet forest canopy and allows you to encounter some wildlife in these woods.
Black Mountain Horse Trail
Difficulty: Moderate
Length: 3.4 Miles
The Black Mountain Horse Trail is the longest hike in the park. It takes you from the Red Mountain area to the furthest southern portion of the park. Another perk is that this hiking trail is also great for horses and mountain bikes, both of which are legally permitted to share the path.
Day Trips Around Silver Lake Park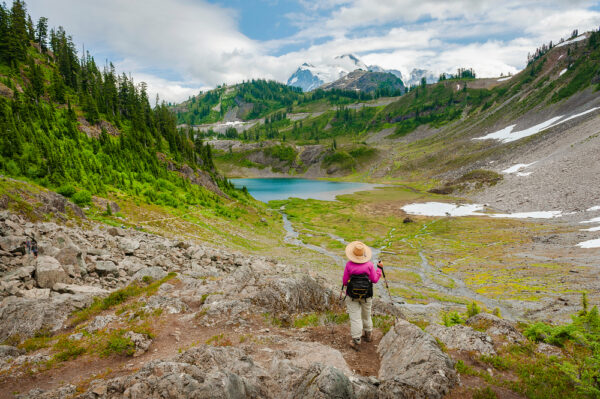 Be sure to check out other day trips around this beautiful Pacific Northwest destination while you're here!
A day spent exploring Mount Baker Snoqualmie National Forest, North Cascades National Park, Mt. Shuksan, or the charming town of Glacier are fantastic options to add to a day trip out to Silver Lake Park.
Enjoy the Pacific Northwest!
The best thing to do in Silver Lake Park is to take in the natural abundance of the PNW. Whether that's by taking early morning walks through the trails, lounging by the lake, or taking a quick swim in its cooling waters.
Silver Lake Park is a place that can be explored over many days. Let us assist you in booking a luxury vacation home in the Silver Lake area to make access easy!