The medicinal effects of hot springs have been touted for centuries. Humans have been soaking in geothermally heated groundwater pooling up out of the earth's crust around the globe from the United States to Iceland to Thailand. But whether or not you're actually doing your skin any favors or adding decades to your lifespan, there is something therapeutic about sitting literally immersed in nature, meditating, or simply soaking it all in.
The United States has natural (and artificial) hot springs in virtually every ecosystem. States like Utah, Oregon, and Colorado have a huge number of easily accessible natural soaking pools, but Washington State has five natural hot springs of its own. Surrounded by tall pines nestled into the mountains and overlooking the North Cascades you would be hard-pressed to find a more serene environment to soothe a busy mind.
The Benefits of a Hot Spring Soak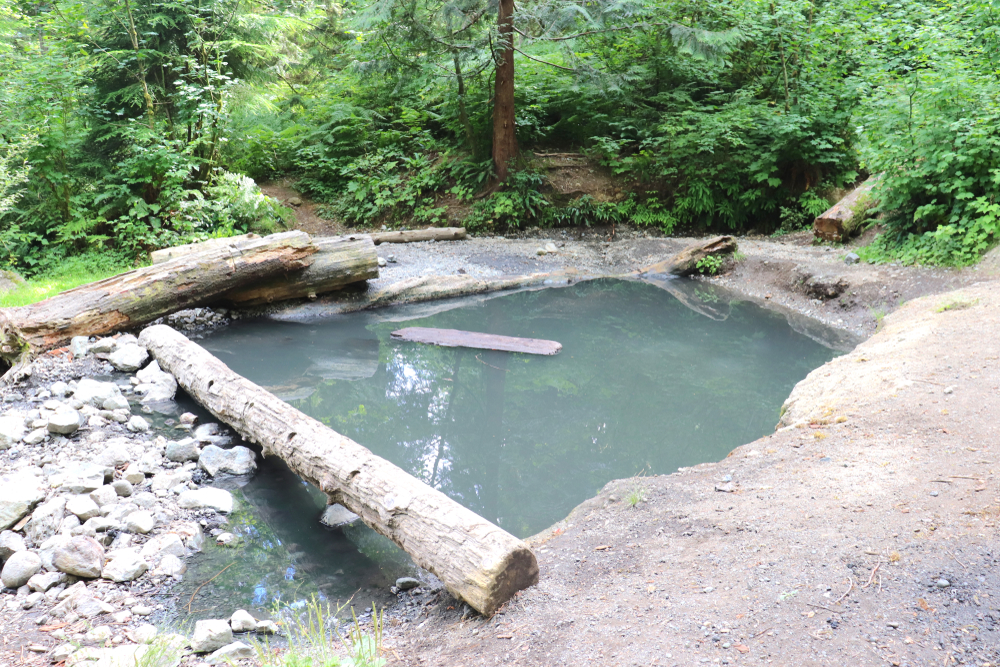 As for the physical medicinal properties of the hot springs, while sometimes appearing like a pile of gray or brownish sludge rather than a clear blue spring, the springs do contain silica and sulfur. Which, if you've ever been to a natural hot spring before, you'll know they often absolutely reek of rotten eggs.
This is the sulfur. That way you know the healing is happening. Silica can help to soften the rough leathery skin of wintertime and sulfur can potentially help major skin conditions like acne, eczema, and psoriasis. But the healing isn't only skin deep.
The many natural minerals and high temperatures within the spring can also increase blood circulation, speeding up your heart rate and your metabolism. Frequent users of hot springs will also claim that the waters have natural pain-relieving properties and can leave you feeling energized and re-invigorated. This promise of pain relief makes the sometimes long, and strenuous hikes to the hot springs all the more worth it.
Fortunately, the trek to Baker Hot Springs, on Mt. Baker, is a short and easy one. In fact, during the summer months when you can gain access to the parking lot near the trailhead it can barely be considered a hike at all.
Here's everything you need to know before you plan your first visit to Baker Hot Springs.
Best Time of Year to Visit Baker Hot Spring
You can visit this hot spring all year round. But certain times of year are better than others.
During the winter months, a hot spring soak sounds extra soothing but with poorly maintained forest roads to contend with you'll have a hard time reaching the trailhead without a 4 x 4 vehicle.
If it's really snowy, you won't be able to start your hike from the trailhead at all. But instead, have a 4-mile trek through the snow with crampons and poles. Thankfully, the warm pools will be just what your aching muscles need.
Summer and fall are the busiest times to visit Baker Hot Spring. The trees overhanging the spring come alive with the vibrant oranges and reds of autumn. While the toasty Washington summers may seem like an unappealing time for a 101-degree soak, it's undoubtedly the most popular time to visit.
Spring is the perfect time to visit before the crowds come. The snow has melted and the air is still crisp enough to warrant an outdoor soak. Plus, you'll get to soak surrounded by the awakening blossoms all around you.
Getting to Baker Hot Spring
The Mt. Baker hot spring sits on the western slope of the North Cascades. Easily reachable in a single day from Seattle, Vancouver, your luxury vacation rental around Glacier, and only 1.5 hours from Bellingham, the springs are accessed via the scenic highway 20.
Eventually, you'll reach NF-1144, a pot-holed forest service road that is poorly maintained, and continue down that path for 20 or so miles. Avoid the potholes as you make your way to the parking area. The parking lot shouldn't be full. If it is, the springs will be far too packed for you to comfortably soak in the warm water anyways.
From here the short .4 mile single track "hiking" path is marked by a spray-painted rock that says "hot springs".
If you're looking for a more adventurous way to reach the hot springs, hikers can always opt for the Swift Creek Trail. This 18.1-mile out-and-back trek traverses Mt. Baker National Forest, giving you access to the Baker Hot Springs along the way. Obviously, it is most popular during the summer months.
During the winter months, you have to extend your hike based on how far your car is able to make it. Usually, this makes the trek about 4-miles one way from the road. During this time, you'd probably enjoy a day at the Mt. Baker ski slopes instead.
Baker Hot Spring at a Glance
Enclosed in a full tree canopy the natural hot spring sits in a primitive log and rock retaining wall within the Mount Baker Snoqualmie National Forest. The bottom of the pool is lined with gravel and several vents in the forest floor allow for the flow of 101-degree water to seep through the earth and collect in the pool. The water is far from clear and the thick stench of sulfur hangs in the air.
The actual temperature of the hot spring, however, depends on how close to these vents you are positioned and the season you visit the springs. Volcanic ash from the five regional volcanos that feed the spring can sometimes clog the vents briefly stopping the flow of hot water but a quick dig near the water source should dislodge the debris.
The hot springs used to be the place to hang out near Mount Baker. There was a full cedar pool, outhouses, picnic tables, and changing rooms. The pools have long since been demolished in favor of a more natural look. The services are gone too. While this probably isn't the most scenic natural hot spring in Washington it's great for those looking to immerse in nature.
There are technically two pools that make up the Baker Hot Spring. The first can hold around 10 people comfortably, but don't be surprised if a visit in the busy season has more people cramming into the healing waters. This larger pool can range from tepid to quite hot depending on where you sit. You'll know you're nearer the vents based on the bubbling. The logs lining this particular pool make for a great place to sit if you just want to soak your feet.
The second pool is less of a pool and more of a foot bath. Only a few inches deep and able to seat only two people.
The general atmosphere of Baker Hot Spring is relaxation. Most people come to meditate in the mountains and take a solo quiet soak in the silty waters. As it is clothing optional, like most hot springs in Washington State, I would consider if that is something you are comfortable with before you bring children or family.
If you're visiting the area and looking for a few other things to entertain you for the day or weekend, I highly recommend paying a visit to the nearby small mountain town of Glacier, WA for lovely cabin-style lodging and tasty eats and the Rainbow Falls Viewpoint just a half mile from the hot springs themselves.
Things to Know About Baker Hot Spring
Baker Hot Spring is open year-round.
This is a clothing-optional hot spring. If you aren't okay with nudity, you likely want to give this hot spring a pass. But if you yourself don't feel comfortable going in the buff, don't feel pressure. It's totally normal to wear a swimsuit.
The hot spring is 100% free to the public.
Getting to the trail requires you to navigate rough road conditions. A 4wd vehicle would come in handy.
Parking can be tight. If you don't arrive early, you might find the spring already overcrowded. This is one of the more popular natural hot springs in Washington because it is a short hike.
Technically speaking, this hike is accessible to those with disabilities because the trail is so short and well-maintained.
The temperature of the pools is about 100 degrees on average.
If you visit in the wintertime, the access road may be snowed in. You can still hike in, but it may be over 4 miles each way to reach the hot springs. That means you should bring along snow shoes, chains, an emergency kit, extra food and water, and lots of layers.
Before you go be sure to download offline maps because there is little to no service in the area.
If there are a lot of cars in the parking lot, be prepared for a tight squeeze in the pool.
This area is a sensitive habitat which means it's extra important that you leave no trace.
Natural Hot Spring Etiquette
Before you make the journey here's what you need to know about natural hot springs in case you've never before taken the plunge in the Pacific Northwest.
Know if the particular pool is clothing optional. This one is. That means you'll likely encounter several nude people on your visit.
Always leave no trace when you visit wild places. This means packing out all the garbage you generate.
It also means not peeing in the pool. It can throw off the balance of the minerals and cause bacteria to grow in otherwise medicinal waters. If you have to use the restroom be sure to exit the pool and preferably find a spot more than 250 feet from the hot tubs.
Dogs or other animals are typically not allowed at hot springs. For the reason mentioned above. Technically, dogs are allowed at Baker Hot Springs but I would recommend leaving the fur friends at home.
Don't bathe in or bring soap/shampoo to the hot springs. This is part of the leave-no-trace policy.
Always be considerate of your fellow bathers. This means keeping the noise to a minimum. If you do want to listen to music or talk loudly as a group visit during the non-busy hours which is usually early morning or later in the evening. As soothing as you think your music is, it might not be what other bathers are hoping for.
Make sure to leave room for others to use the spring and if you come in a large group try not to fill up the pool all day.
Avoid the most popular times to avoid environmental degradation and ruining your own experience at the hot springs.
Don't bring glass as it's a safety hazard.
Don't forget that hot springs dehydrate you. Bring lots of water and some snacks.
Other Washington Hot Springs
Baker Hot Springs is not the only natural water soak in the state. There are actually four more natural springs and one artificial spring that you could visit if you find them therapeutic.
Gamma Hot Springs in Glacier Peak Wilderness
This is the most remote hot spring on this list. Because of the long tricky hike through overgrown paths and scenic trails, there will be even fewer people to share the pools with.
Olympic Hot Springs in Olympic National Park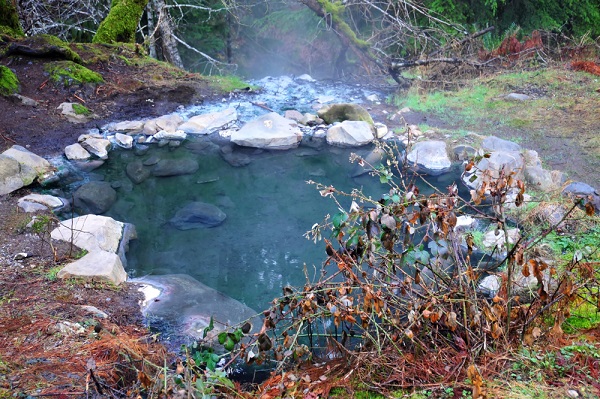 Soak in one of the seven natural pools in the heart of the rainforest. Right in the heart of Olympic National Park, this 9-mile one-way trail requires more work than any other hot spring on this list. The shorter route washed out many years ago and has yet to be replaced. At nearly 21 miles round trip it's best to plan an overnight at this hot spring.
Goldmyer Hot Spring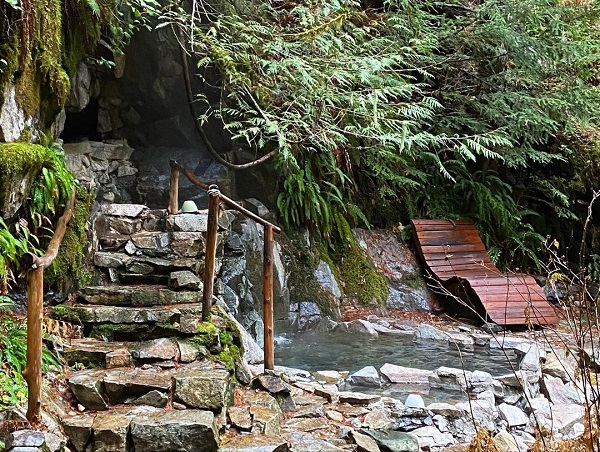 These serene tranquil tiered pools are potentially the most scenic springs in Washington if impressive views are all you're looking for. At nearly 111 degrees they are also the hottest. Sitting at the foothills of the North Cascades, there is also a campground nearby that can hold about 20 but you should make reservations far in advance.
Scenic Hot Springs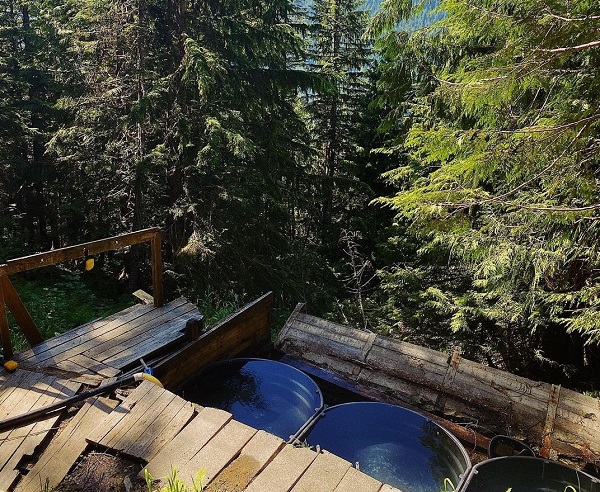 This is a private natural hot spring located near Stevens Pass that does require a reservation to use. Sitting on 40 acres of property, only 10 people are allowed to make the several-mile trek up the hillside to the spring each day to keep the pools in pristine condition. This is the closest hot spring to Baker Hot Springs so you could easily visit both springs while staying in Glacier.
Sol Duc Hot Springs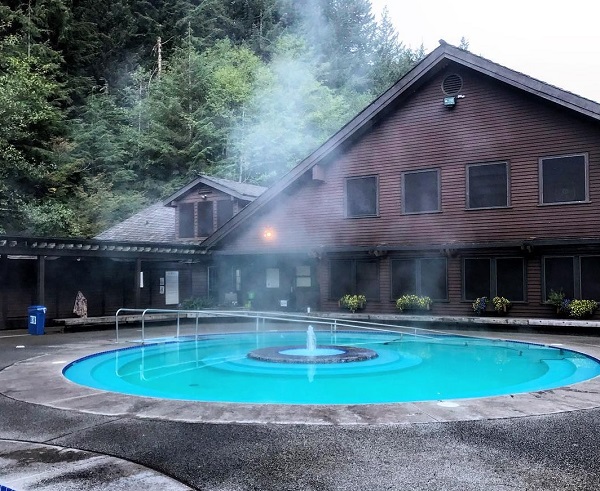 This is not a natural hot spring. This is actually a part of Sol Duc Hot Springs Resort. It's more of a pool of mineral water. There's also a cooling mineral pool and as it is definitely not clothing optional this is a great family-friendly option for those who want a more sanitary and less au natural experience.
Relax in Nature at the Mt. Baker Hot Spring
Baker Hot Spring, located on the foothills of Mt. Baker, is a hot spring that'll bring you back to the basics in the heart of nature. Its rugged exterior and unassuming location adds to the feeling of tranquility and like you've truly stumbled upon something unknown. Sit back, relax, and let the hot springs ease your worries away.