The only thing that Bellingham, Washington, takes more pride in than their craft beer scene is its love for the great outdoors. This enthusiasm is never more apparent than when walking through the downtown area by the ski, kayak, and bike shops wedged between a myriad of breweries.
Outdoor sport is an integral part of the culture here, and in this far corner of the Pacific Northwest, you'd be hard-pressed to find better access to nature-loving recreation throughout the old-growth forests and boundless mountains. As a result, mountain biking, or MTB for short, is the sport of choice for many residents and visitors who stay at our vacation home rentals.
People from all over the country come here to get down and dirty on Bellingham's legendary downhill single tracks or visit one of the bike parks in the area. Whether you're looking for a challenge with steep grades and major features to navigate or a leisurely ride around the area's many lakes and rivers, you will find it here.
These are the top mountain biking trails around Bellingham.
Galbraith Mountain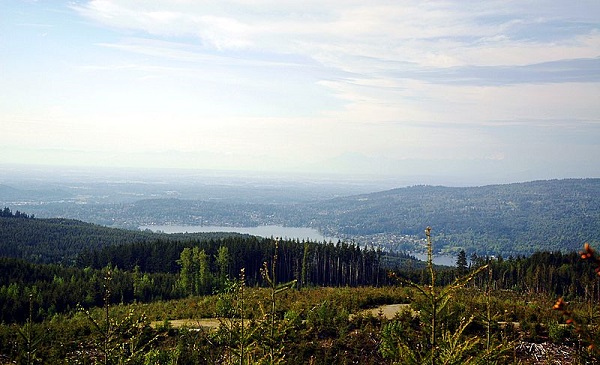 Ranked among the Top 10 Mountain Biking Destinations in the country and located within riding distance from downtown Bellingham, Galbraith Mountain has it all.
Officially known as North Lookout Mountain, it consists of over 65 miles of single track and covers over 3,000 acres. With that many tracks, riders of all skill sets can find their favorite trails and spend all day here and still have more to explore for next time. The land is privately owned and trails are impeccably maintained by the Whatcom Mountain Bike Coalition.
Accessibility is what makes this the downhill destination of the area. There are two entrances, from the north or south, complete with ticket kiosks and maps to navigate the dense maze of trails.
While the south seems to be most popular with riders, the north section is not to be overlooked with lines like the SST, known for fun steep runs and vistas of Bellingham Bay. Jump lines, cross-country lines, and some advanced-level tracks make this the most well-rounded, as well as the most popular spot for pedaling.
Popular Tracks for Galbraith Mountain Biking
Most Popular: The Unemployment Line is the most popular jump line on the mountain, with big features, tight corners, and great variety. The diversity of jumps, fray tires, and a smooth machine-made track means that intermediate riders can find their rhythm here, as well as advanced technical riders.
Intermediate: Tracks like Ursa Major and Lost Giants are some of the tamer lines. Good for intermediate and younger riders looking to up their skill level and still get their heart rate and legs pumping.
Best Single Track: Atomic Dog is an intermediate single-track downhill line that's a favorite among local mountain bikersItsts more notable features include a berm, a gap jump, and a wall ride.
Other Noble Trails: A handful of other intermediate trails in the area are Cedar Dust, Mullet, and Mohawk.
Getting There
To reach the North Entrance from downtown, simply ride or drive east along Lakeway Drive for three miles until turning right onto Birch Street.
Chuckanut Mountain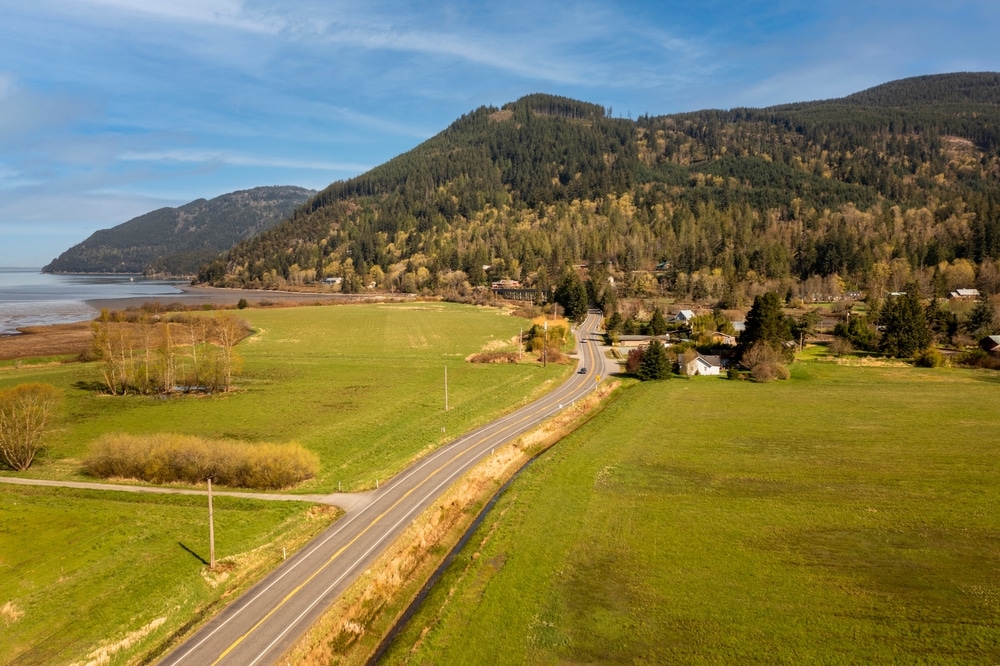 Located in Larabee State Park, Chuckanut Mountain has some of the most scenic and thrilling downhill singletracks and cross-country biking in the entire state.
An area renowned for its natural beauty and sweeping vistas along the Ridge Trail of the nearby Bellingham Bay, it's hard to beat downhill biking with a view. The only place where the Cascades meet the sea, you'll feel like you're pedaling straight out of the ocean into uninterrupted old-growth forests.
Mainly suited for technical riding and expert riders, Chuckanut Mountain is where you can put your skills and adrenaline to the test.
Popular Tracks on Chuckanut Mountain
Best Thrill: The Chuckanut Ridge Descent is a tricky and lengthy course where you'll navigate sandstone features and tree root systems. Starting at the top of the mountain, this thrilling track will challenge a range of skill sets and require technical riding that will have you hooting and hollering.
Advanced: The Double Down is a short but fierce trail that is best for advanced riders.
Getting There
Both of these trails are in the Larrabee State Park trail network just an hour or so north of Seattle. To reach Larrabee State Park from Bellingham, simply travel south on Chuckanut Drive until you reach the turn-off on your right-hand side just across from Fragrance Lake Trailhead. Keep in mind a Discover Pass is required to use this park.
Blanchard State Forest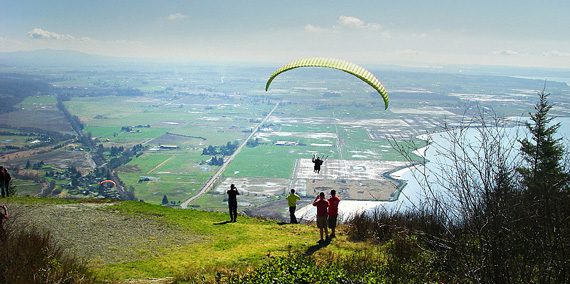 If you have access to a car with a bike rack and want to get a little further out of Bellingham for some scenic and physically demanding tracks, Blanchard State Forest is the place for you.
Popular Tracks in Blanchard State Forest
Lily and Lizard Lake Loop is a great gradual climb and descent along the serene shores of Lily Lake and a twisting trail through dense old-growth forests. Perfect for those looking for a mix of challenge, thrill, and scenic nature.
Getting There
To reach Blanchard Mountain Upper Parking Lot, head south on I-5 from Downtown Bellingham, take the Lake Samish Road exit, and turn right. Take a quick left onto Barrel Springs Road, and after a half mile, take a right onto the Blanchard Hill Trail.
Beginning at Upper Blanchard Hill, you'll ride along until you reach the Lily Lizard Trailhead to your left after a few hundred feet.
Pro Tip: a Discover Pass is required to access the parking lot here.
Lake Whatcom Park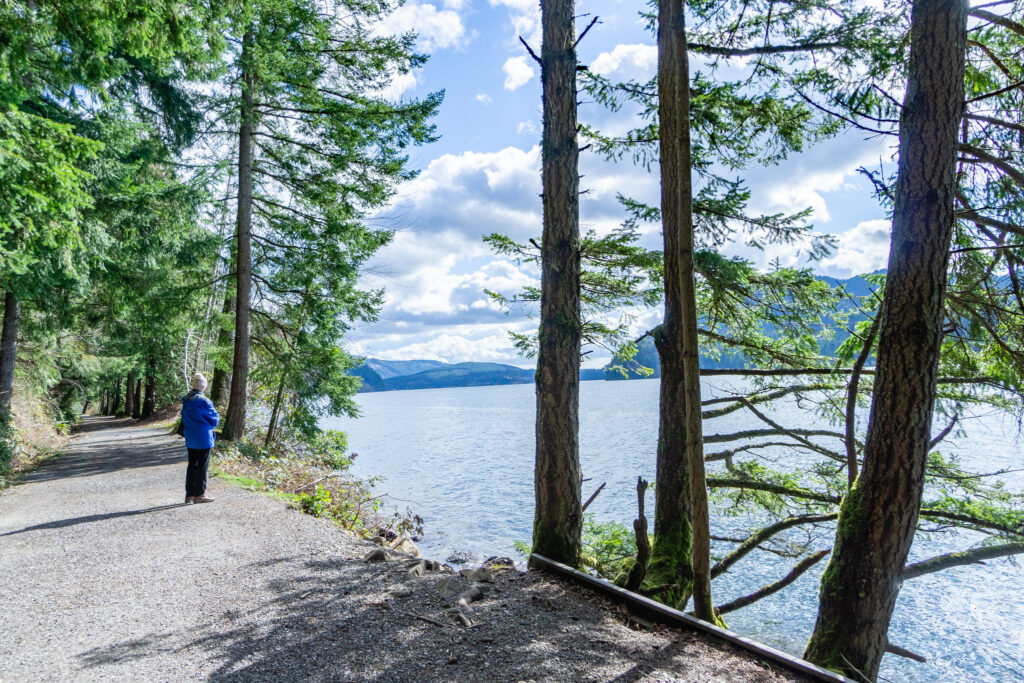 This park offers everything; downhill tracks, waterfalls, lakeside riding, and pump tracks. Whether you're looking for a challenge on Brown Pow or Surf n' Turf, an uphill challenge along the Upper Chanterelle, or an easy ride along the shores of Lake Whatcom on the Hertz Trail, this park offers something for everyone.
Located on the eastern side of the lake and Bellingham, this is a perfect area to get out of the city and lost among the Douglas firs.
Popular Tracks in Lake Whatcom Park
Best Scenic Ride: The Hertz trail is ideal for those wanting to enjoy a light ride around a picturesque lake. A 6.2 mile out and back trail around the east side of Lake Whatcom, this trail is great for hiking, biking, and birdwatching, so you won't be alone out here.
The Challenge: If you're looking to get away from the hikers, then Chanterelle to Brown Pow Loop is just for you. A grueling uphill battle on a 6.3-mile trail that takes you over 1,800 ft in elevation. You'll feel your thighs burning, but you'll be rewarded with some stellar views from the top! No technical experience is necessary, only the sheer will to conquer the hill.
Getting There
To get to Lake Whatcom Park from Bellingham, simply take the North Shore Drive to Agate Bay, where you keep right. Once you cross the bridge at Smith Creek, look for the trailhead turnoff in 2.5 miles on the left-hand side.
Nooksack River Trail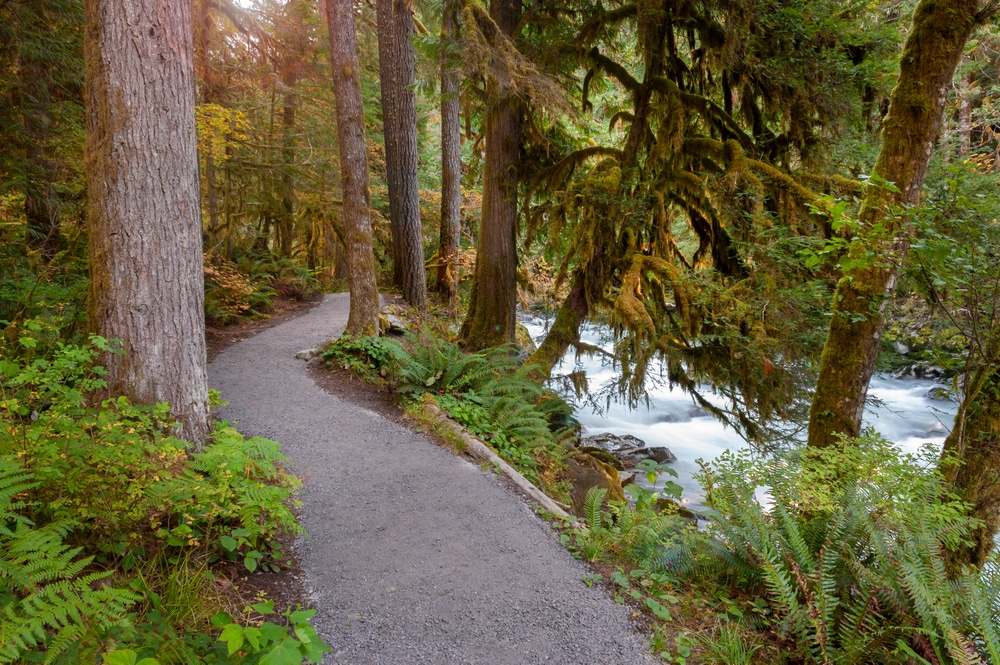 One of the most lovely regions in Washington State. Just watch out for the cougars!
The Nooksack River Trail is a light, slow, scenic ride along the gorgeous Nooksack River. Follow a flat path along the river's edge for 4.6 miles out and back, surrounded by blackberry bushes.
This trail follows the Nooksack River with a double track section between Hovander Park and Slater Road with mostly compressed gravel and a single track section between Slater Road and Marine Drive, which is mostly dirt with a section of grass trail.
At the right time of year, salmon can be seen spawning, and since this trail is slightly out of the main city hub, you'll have large stretches of the track to yourself. This one is perfect for a quick 1 to 2-hour ride to get out and get that fresh Pacific Northwest air.
Getting There
This trail starts in Ferndale off of Hovander Road. Going north on Hovander, you'll turn left onto Baker Street, with parking at the dead end just past the dog park on your left.
Things to Know Before You Go
Before we get into the best mountain bike trails, let's cover the basics of the Bellingham mountain bike scene.
Grab a Trail Map at a Local Bike Shop
With so much backcountry riding out here, certain biking areas can be an absolute maze. Even with well-marked trailheads and the sport's relative popularity, it is easy to get lost or turned around and end up on remote logging roads without a helpful soul in sight.
Stay Aware
Always be aware of other riders, hikers, and pets. It can help to do some research on the trail you'll be riding beforehand so you understand whether or not it is well-traveled and what kind of life (wildlife and human) you'll encounter along the way.
Take it Slow
New tracks can be intimidating, with some features being harder to read or corners tighter than they first appear. Always use caution when gaining a feel for an unfamiliar trail, especially if you are new to the sport.
Get a Discover Pass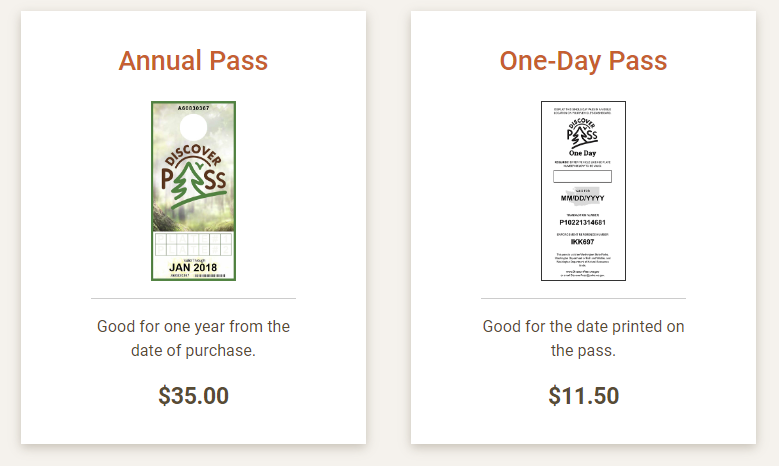 A Discovery Pass is a Washington wilderness essential. They can be purchased easily at over 80 retailers, online, or anywhere fishing licenses can be purchased. Many State parks require it, but some parking areas can be used to bypass the regulations.
Day-use passes typically cost $10, while an annual Discover Pass is only $35. Be sure to properly display in your vehicle when necessary.
Protection is Paramount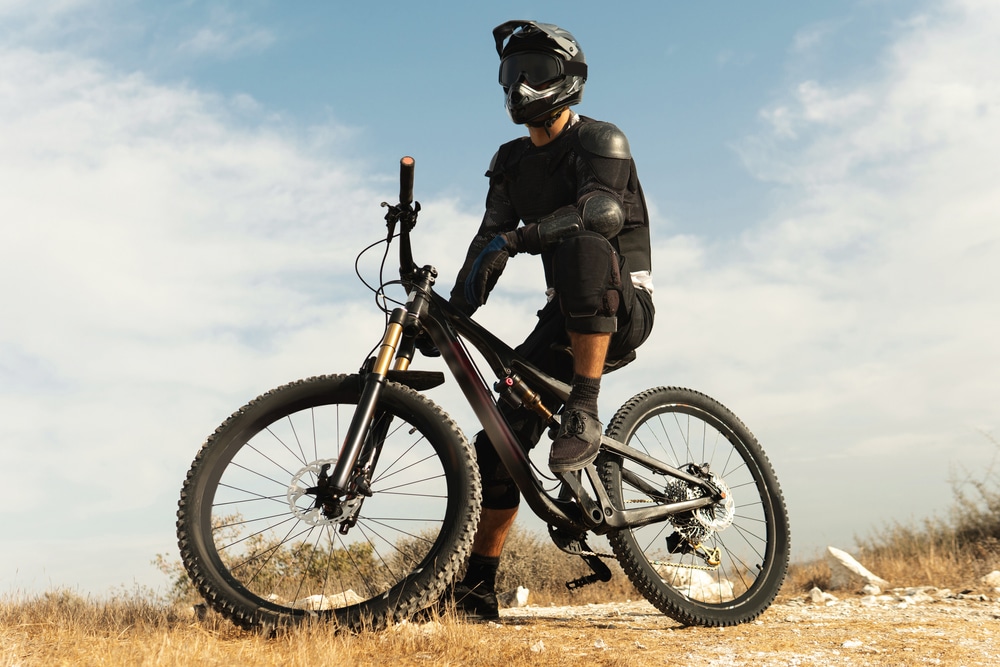 This is an extreme sport. Safety is an important thing to consider. Always use proper protective gear for the style of riding you're doing.
A helmet is a must, no matter what. For intense downhill riding, it can be wise to have protective gear for the rest of your body as well as goggles and gloves. Always travel with a mini first aid kit for accidents, sprains, cuts, and scrapes. Never ride alone unless you're an advanced rider, and always pack sufficient water and snacks just in case.
Lock it Up
Avoid a Smash and Grab. Keep all belongings in your vehicle out of sight. As much as most people can be trusted, it's best not to tempt anyone looking for a quick smash-and-grab out of your car. Things like bags, sunglasses, GPS units, phones, and purses, should always be hidden.
Get Social
Be ready to make friends on the trail! Bellingham is a friendly place. We love welcoming new members to our outdoor community. Fortunately, adventurers in this area are always open to lending trail advice or a helping hand if needed.
It's a Community
Check-In with the Whatcom Mountain Biking Coalition. The WMBC hosts meet-ups and trail maintenance volunteer days and offers memberships to local riders who want to join the vast mountain biking community. Check their schedule to see if they are having any events during your visit.
Bike Rentals
Need a Bike? Bike rental shops line the sidewalks nestled between craft breweries throughout the downtown area. There is no shortage of places to rent or buy bikes for all sorts of riding. Many of these are run by local expert riders who grew up in the surrounding forests and can offer trail maps, local insider secrets, and riding directions to the most accessible trail systems.
Kona Bikes in downtown Bellingham is the best of the best for all things mountain biking. They also have a knowledgeable service department and host events like the Washington Endurance Series.
Mountain Bike on Some of the Best Trails in Washington
Bellingham is a mountain biking paradise; it's hard to imagine a place more suited for adventure sports. Surrounded by mountains and ancient forests, accessible roads, and well-maintained tracks, this town takes pride in its mountains.
When it's time to step outside your Luxury Getaways vacation home rental, grab a bike and explore Bellingham in a truly local way.